Lucky Foods For A Good Year
This January 1st instead of taking a chance on having a good year put luck on your side by making a menu of good luck foods. There are many cultures that believe in eating certain foods to ensure a fortunate year, so follow in their footsteps to have a terrific upcoming year.
(page 2 of 2)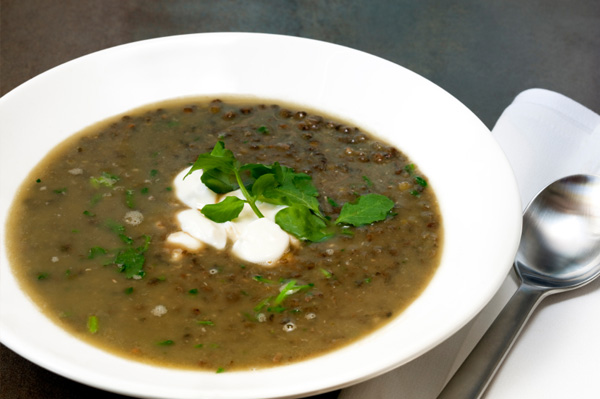 Pulled Pork Sandwiches
Makes 8-10 servings
Ingredients
2 pound pork shoulder or butt
12 ounces dark beer
12 ounces barbecue sauce
8-10 round Italian rolls
Directions
Place pork in slow cooker with beer; cover slow cooker and cook on low for 6 to 8 hours or until pork is cooked through and tender.
While pork is still in slow cooker shred with a fork and stir in barbecue sauce. Top each roll with pork.
Lentil Soup
Makes 8 to 10 servings
Ingredients
1 yellow onion, peeled and chopped
4 large carrots, chopped
2 celery stalks, chopped
1/4 cup olive oil
3 garlic cloves, minced
1 bay leaf
1 teaspoon oregano
1 teaspoon dried basil
1 (14.5-ounce) can diced tomatoes
1 1/2 cups dry lentils
5 cups water
5 cups chicken stock
2 tablespoons vinegar
Salt and pepper to taste
Directions
Sauté onions, carrots, and celery in olive oil until onions are tender. Add in garlic, bay leaf, oregano, and basil and sauté another minute or two.
Add tomatoes, lentils, water, and chicken stock; bring mixture to a boil then reduce heat and let simmer for about 1 hour or until lentils are tender.
When ready to serve stir in vinegar and salt and pepper. Serve hot.
Collard Greens and Bacon
Makes 10 servings
Ingredients
1tablespoons minced garlic
5 slices bacon, chopped
1/4 cup olive oil
5 cups chicken stock
5 bunches collard greens, rinsed and trimmed
Salt and pepper to taste
Directions
Saute garlic and bacon in olive oil until garlic is golden and bacon is crispy.
Add chicken stock to pot with bacon along with collard greens. Cover pot and simmer on high for about 45 minutes, stirring a few times.
Lower heat to medium and season greens with salt and pepper. Simmer greens an additional 45 minutes to 1 hour or greens are cooked down. Drain liquid from pot and serve hot.
A fun New Year's Eve cocktail
Shay Pausa shows us how to make a fun new champagne cocktail for New Year's Eve.
More New Year's recipes