Cold Weather Tipples
As the weather gets colder you may need a hot cocktail to warm you up. Enjoy these simple to make but incredibly tasty hot toddies on the coldest of days.
(page 2 of 2)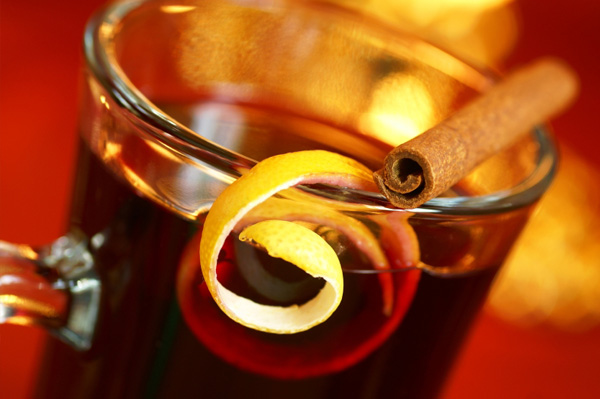 Citrus red wine
Makes 1 cocktail
Ingredients
4 ounces dry red wine
3/4 ounces orange liqueur
1/2 teaspoon granulated sugar
1/4 ounce orange juice
1 orange wedge
1 cinnamon stick
Directions
Combine wine with orange liqueur, sugar, and orange juice in a small pot. Heat until sugar has dissolved.
Pour wine mixture into a cocktail glass and garnish with orange wedge and cinnamon stick.
Ginger tea
Makes 1 cocktail
Ingredients
1 1/2 ounces dark rum
Hot tea
2 ounces ginger beer
1 lemon wedge
Directions
Pour rum into hot tea; top with ginger beer. Garnish with a lemon wedge.
Cinnamon spiked hot cocoa
Makes 1 cocktail
Ingredients
2 ounces cinnamon schnapps
Hot chocolate made with water
Cinnamon flavored whipped cream
Directions
Mix cinnamon schnapps into hot chocolate; top with cinnamon flavored whipped cream.
More hot cocktail ideas