Skinny Sips
Step away from the eggnog! Aside from the obvious issues that could arise from guzzling down a raw egg/heavy cream based drink … each cup is nearly 20 whopping grams of fat. But fear not holiday party girls, all festive cocktails don't have to be diet disasters. You can hop your way through soiree season without busting out of that little black dress thanks to these diet-friendly holiday cocktails – all 150 calories or less!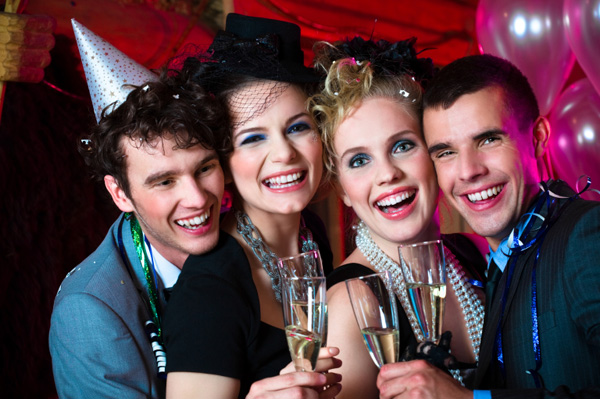 Before we start talking booze, remember to stay hydrated with good old-fashioned water or club soda in between the hard stuff. You'll be thankful the next morning when you can actually lift your head off your pillow.
Champagne
At only 90 calories a glass … you can sip sweet bubbly without the guilt. Plus, bartenders will thank you for not making them muddle, mix, shake or blend.
Mojito Light
This drink takes a little more effort, but adds a refreshing vibe to any holiday party.
Ingredients
1.5 ounces Bacardi Superior Rum
2 Tbsp. simple syrup (some brands make Sugar Free versions) or 1 Tbsp. sugar
½ lime
12 mint leaves
Club soda
How-to
Muddle 12 fresh mint leaves and 1/2 a lime. Cover with 2 Tbsp. of simple syrup or 1 Tbsp. of sugar and top with ice. Add 1-1/2 oz of BACARDI Superior Rum and top with club soda. Stir well and garnish with a lime wedge and sprig of mint.
Gin Rickey
There's nothing like an old school cocktail. This low sugar drink is an extra tart classic.
Ingredients
1.25 oz. Tanqueray London Dry Gin
.25 oz. lime juice
1 oz. soda water
How-to
In a shaker filled with ice, add Tanqueray London Dry Gin and lime juice. Shake and strain into highball glass filled with ice. Top with soda water.
Snow White Cosmo
Festive twist on the typical cosmo.
Ingredients
3 oz of Figenza Mediterranean Fig Vodka
1 oz of white cranberry juice
.5 oz of Triple Sec
Splash of Cointreau
How-to
Shake. Serve up with a fresh fig slice floating on top in martini glass.
The Skinnygirl Margarita
One can never get sick of Bethenny Frankel or this drink.
Ingredients
2 oz of Clear Premium Tequila (count 1, 2 while you pour, no need for measuring)
Tiny splash of orange liqueur
Juice of 4 fresh lime wedges
How-to
To serve on the rocks, combine all ingredients over a glass of ice and garnish with a lime wedge.
Happy holidays! Don't drink and drive. Also, don't drink and text the guy you only went on one date with. K?
More holiday cocktail ideas
More From SheKnows Explorer