Sensational Seasonal Recipes
This winter come in out of the cold and cozy up in front of a warm oven. Filled with hearty seasonal ingredients, these creative winter recipes will turn your kitchen into a deliciously warm retreat.
(page 3 of 3)
Pumpkin Baked Ziti
Servings: 6
Pumpkins aren't just for carving. This slightly sweet squash adds a creamy punch to traditional winter recipes that is quite delightful.
Ingredients
1 pound sweet Italian sausage
1 cup chopped onion
1 tablespoon minced garlic
1 teaspoon nutmeg
2 tablespoons oil
1 15 ounce can pumpkin puree
1 cup vegetable stock
2 teaspoons dried sage
2 teaspoons salt
1 tsp. ground cinnamon
1/4 cup heavy cream
1/4 cup milk
1 pound ziti cooked and drained
8 ounces cream cheese, softened
1/2 cup grated parmesan cheese
Directions
Preheat oven to 350F.
In a large skillet, cook sausage over medium heat for 10 minutes.
Remove sausage from skillet, pat with paper towels to drain. Chop sausage and set aside.
Drain fat from skillet to leave only a coating.
Add onion, garlic and crushed pepper to skillet. Sautee for two minutes.
Pour in pumpkin puree and chicken stock, stir.
Stir in salt, pepper and dried sage.
Bring to a boil, lower heat and simmer for 3 minutes.
Add cream, milk, cinnamon, nutmeg and cream cheese to mixture. Simmer for five minutes, until cream cheese is melted and sauce is slightly thickened.
Spread cooked pasta and chopped sausage in a 3-quart casserole dish.
Pour pumpkin cream mixture over pasta and sausage tossing to coat.
Sprinkle parmesan cheese over top of casserole.
Bake for 40 minutes.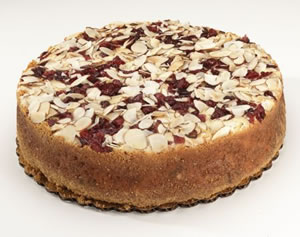 Cranberry Almond Cheesecake
Servings: 8-10
Cranberries bring tang, while almonds add a tasty crunch to this creamy, sweet winter recipe.
Ingredients
1 Graham cracker crust
3 8 ounce bars cream cheese, softened
1 cup sugar
1/4 cup sour cream
1 teaspoon almond extract
3 eggs
1 cup chopped cranberries
1/2 cup slivered almonds
1 tsp grated orange or lemon peel
Directions:
Preheat oven to 325F.
Place cream cheese, sugar and almond extract in a mixing bowl.
Beat on medium speed until blended.
Beat in eggs just until they have been blended into the mixture.
Stir in 1/2 cup of cranberries and the orange or lemon peel.
Pour mixture into pie crust.
Top with remaining 1/2 cup of cranberries and almonds.
Bake for 40 minutes.
Cool and refrigerate overnight.
More Winter Recipe Ideas
Snow Day Recipes or the Kids
Winter Fruit Salads
Eggnog Recipes for Breakfast and Dessert