Sensational Seasonal Recipes
This winter come in out of the cold and cozy up in front of a warm oven. Filled with hearty seasonal ingredients, these creative winter recipes will turn your kitchen into a deliciously warm retreat.
(page 2 of 3)
Winter Lasagna
Servings: 8-10
This cheesy "Winter Lasagna" recipe gets the "winter" part from the addition of a yummy seasonal fave: Butternut squash.
Ingredients
2 tablespoons olive oil
1 medium red onion, chopped
2 garlic cloves, minced
2 tablespoons dried basil leaves
1 cup cooked, pureed carrots
1 28 ounce can crushed tomatoes
1/2 cup red wine
1/4 teaspoon crushed red pepper
1 cup of fresh spinach, chopped
16 ounces ricotta cheese
1 egg
2 tablespoons dried parsley flakes
1-1/4 cups grated mozzarella cheese
1-1/4 cups grated provolone cheese
1-1/2 cups frozen butternut squash, thawed in microwave
1 package lasagna noodles, cooked and drained
3/4 cups grated Parmesan cheese
Directions
Heat olive oil in a large skillet. Sautee the onion and garlic for 5 minutes.
Stir in the crushed tomatoes, wine and crushed pepper and basil. Simmer for 5 minutes.
Stir in the spinach and the pureed carrots.
Cover and reduce heat to low, simmer for 15 minutes.
Combine the mozzarella and provolone cheeses. Set aside 1/2 cup of the mixture.
In a large bowl, combine ricotta cheese, egg, half of the mozzarella cheese, half of the provolone cheese and the pureed butternut squash.
Spread a thin layer of the tomato sauce into the bottom of a 13-by-9 inch baking pan.
Layer the lasagna noodles, ricotta mixture and larger batch of the mixed grated cheeses, topping each layer with a ladle full of sauce, until you have two layers of filling between three layers of lasagna noodles.
Top the last layer of lasagna noodles with a ladle full of sauce, the parmesan cheese and the 1/2 cup of grated mozzarella and provolone cheeses.
Bake for 45 to 55 minutes, until top is bubbly and browned.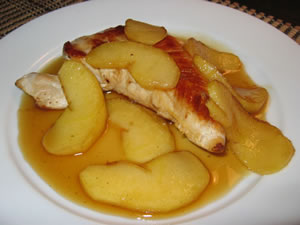 Maple Apple Turkey Cutlets
Servings: 4
Who says Thanksgiving is the only day you can have turkey? Flavors of apple and maple give this recipe a wonderful fall taste.
Ingredients
4 boneless, skinless turkey cutlets
1/2 cup apple cider or apple juice
2 tablespoons maple syrup
2 tablespoons butter
2 large apples, cored, peeled and sliced
1/4 teaspoon salt
1/4 teaspoon pepper
1/8 teaspoon cinnamon
Directions
Place turkey cutlets in a baking dish.
Whisk together apple cider and maple syrup and pour over turkey.
Cover and refrigerate for at least 30 minutes.
Preheat oven to 350F.
Melt butter in Dutch oven over medium heat.
Add turkey and brown for 3 minutes on each side, remove and set aside.
Add the apples to the Dutch oven and sauté for five minutes.
Stir in remaining marinade, scraping bits from the bottom of the pot.
Add the salt, pepper and cinnamon, simmer and stir five minutes.
Return the turkey to the Dutch oven, place in oven and bake for 10 minutes.
Sweet Potato Shepherd's Pie
Servings: 6
This recipe takes a classic favorite and adds a slight sweetness by incorporating the orange-hued winter vegetable.
Ingredients
Topping:
2 pounds sweet potatoes, peeled and cubed
1 cup milk
1 teaspoon salt
1/4 teaspoon black pepper
2 tablespoons brown sugar
1 tablespoon butter
Filling:
2 pounds ground sirloin
Cooking spray
2 cups chopped red onion
1 cup chopped carrots
2 garlic cloves, minced
1 cup frozen peas, thawed
1/2 cup beef broth
1 tablespoon soy sauce
1 tablespoon Worcestershire sauce
1 teaspoon gravy master
1/2 teaspoon salt
1/2 teaspoon pepper
Directions
Preheat oven to 400F.
Boil sweet potatoes in a saucepan until soft, drain and transfer to a large bowl.
Add one tablespoon of the brown sugar and the remaining topping ingredients to the potatoes.
Mash or beat with a hand mixer on low speed until sweet potatoes are smooth.
Heat large skillet and add ground sirloin, salt and pepper, cook until meat is browned.
Remove meat from pan, drain and set aside.
Return skillet to stovetop. Add onions, carrots and garlic. Cook over medium heat until tender.
Return the meat to the pan. Add the peas, broth, soy and Worcestershire sauces and gravy master.
Stir and simmer for two minutes.
Pour beef mixture into 13-x-9-inch baking dish, coated with cooking spray.
Spread sweet potato mixture over beef mixture. Sprinkle with remaining brown sugar.
Bake for 30 minutes.
Next: More winter recipes and a delicious December dessert!