Halloween
With Sandra Lee
Having trouble pulling together a Halloween costume? Try thinking up five of them. Sandra Lee shares recipes from her Halloween episode of "Semi-Homemade Cooking," which aired at 11:30 a.m. ET this past Sunday on the Food Network.
(page 2 of 2)
Grilled Bow and Arrow Steak on a Stick
Yield: 4 servings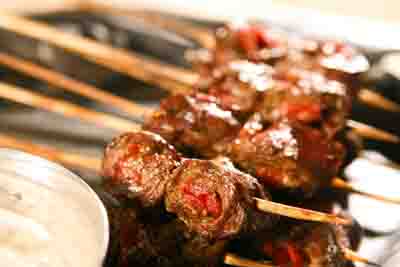 Steak Rolls
Ingredients:
1, 2-pound flank steak
1, 12-ounce jar roasted red peppers, drained and sliced in half
1 cup shredded pepper jack cheese
2 tablespoons Montreal grill seasoning
1 tablespoon canola oil
12, 10-inch skewers soaked in water for 30 minutes
Directions:
Preheat an outdoor grill over medium heat.
Butterfly the flank steak. Cover the steak with plastic and pound it out to about a 1/4-inch thickness, making sure to keep the rectangular shape as well as possible.
Slice the pounded steak in half and each half in half again so you have four equal rectangles. Lay out the steak pieces so that the grain of the meat is going sideways. Evenly sprinkle 1 tablespoon of grill seasoning over each piece. Lay a piece of the roasted red pepper on each piece of meat. Sprinkle each piece with 1/4 cup of cheese.
Starting from the bottom edge and rolling away from you, roll beef into a tight log; repeat with remaining pieces. Place two rolls back to back with the seams facing each other and do the same with the remaining two rolls.
Skewer the rolls with six skewers spaced evenly apart so that each skewer goes through both rolls; repeat with the remaining rolls and skewers. Slice the rolls between the skewers into five pieces so that each skewer has two round rolls, like a stick with two lollipops.
Season each roll with the remaining tablespoon of grill seasoning. Brush the grill grates with a tablespoon of canola oil; place the rolls flat side down and grill for 3 minutes per side; transfer rolls to a large plate and serve with spicy yogurt sauce.
Spicy Yogurt Sauce
Ingredients:
1 tablespoon Montreal grill seasoning
1 cup plain yogurt
1 tablespoon hot sauce
1 tablespoon Worcestershire Sauce
1 tablespoon flat leaf parsley, chopped
Directions:
Combine all ingredients together in a bowl and mix until blended. Serve with steak rolls.
Queen of the Fairies Cocktail
Yield: 2 servings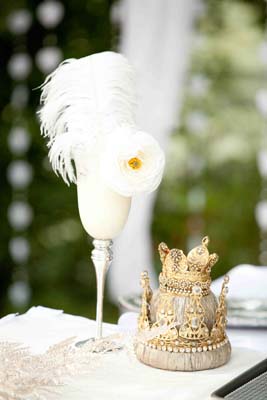 Ingredients:
2 shots Half and Half
2 shots vanilla vodka
2 shots white chocolate liqueur
1/2 shot hazelnut liqueur
Directions:
In a pitcher filled with ice, combine Half and Half, vodka, white chocolate liqueur, and hazelnut liqueur; mix together and pour into martini glasses.