Quick Soups For Guests
It happens all the time, a good friend from out of town calls and wants to visit-today! Instead of putting out cheese and crackers you can serve a delicious gourmet soup that looks like it took all day to prepare when really you whipped it up in under an hour.
(page 2 of 2)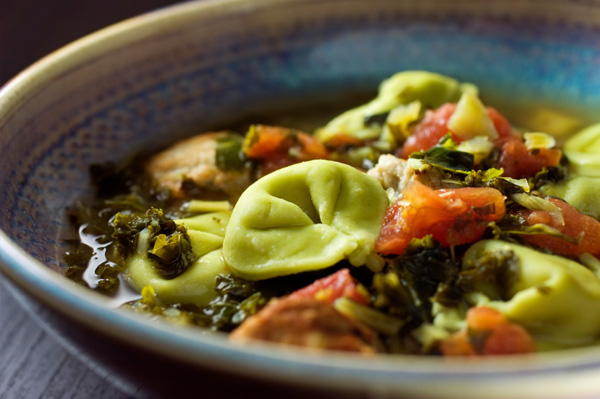 Tortellini and meatball soup
Makes 4 to 6 servings
Ingredients
1 pound ground beef
1 (28-ounce) can diced tomatoes
2 (7-ounce) packages vegetable soup mix
6 cups beef broth
2 cups frozen green beans
1 (9-ounce) package cheese tortellini
1 teaspoon dried basil
1 medium zucchini, diced
Directions
Cook ground beef in a large pot until browned; drain out any excess fat.
Add tomatoes, vegetable soup mix, broth, green beans, tortellini, and basil. Bring mixture to a boil then reduce heat, cover pot, and simmer for 20 to 25 minutes.
Add zucchini and cook another 10 minutes or until tortellini and zucchini are tender.
Fennel and white bean soup
Makes 4 to 6 servings
Ingredients
1 white onion, diced
1 fennel bulb, diced
2 tablespoons olive oil
8 cups vegetable broth
1 (14-ounce) can white beans, drained
2 tomatoes, diced
1 teaspoon dried rosemary
Pepper to taste
1 bay leaf
4 cups spinach
Directions
Sauté onions and fennel in a large pot in olive oil until tender.
Pour broth into pot and add beans, tomatoes, rosemary, pepper, and bay leaf.
Bring soup to a boil then reduce heat and cover pot. Let simmer for 25 to 30 minutes then add spinach and cook an additional 10 minutes.
Cream of asparagus and chicken soup
Makes 4 to 6 servings
Ingredients
8 ounces asparagus, diced
1 tablespoon unsalted butter
2 cups heavy cream
1 1/2 cups chicken broth
1 teaspoon cornstarch dissolved in 1 tablespoon water
1/2 teaspoon dried thyme leaves
1/2 teaspoon dried oregano leaves
1/4 teaspoon white pepper
6 ounces diced cooked chicken
Directions
Saute asparagus in a large pot in butter until just tender.
Add heavy cream and broth; bring mixture to a boil then reduce heat and simmer for 20 minutes.
Add cornstarch mixture, thyme, oregano, white pepper, and chicken and cook 10 to 15 minutes or until heated through.
More soup recipes