5 Minutes To Mealtiime With This Simple Dish
When it comes time for dinner, you can probably get so far as defrosting a bit of chicken. But, from there everything goes blank. You've got meat, but you've also got a room full of hungry mouths to feed. What do you do? This is the moment when most mom's crumble. With just minutes to make dinner, you don't have the energy to toss together one of those boring recipe standy-by's. Hurry! You can make this yummy 5-Minute Fried Rice, wow your tastebuds, and break right out of the dinnertime blah's.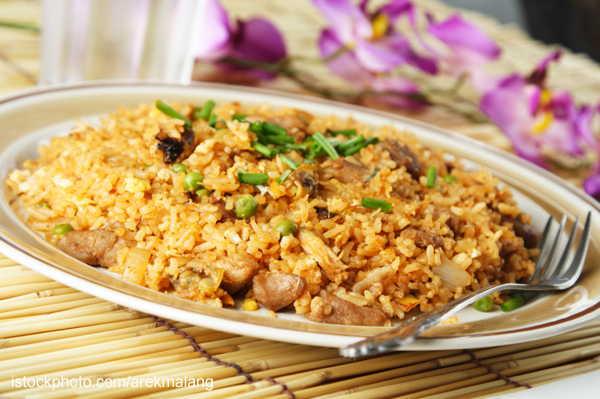 A bit of chicken, pork, beef, or shrimp, and a several cups of leftover, cooked rice makes this dinner ideas a breeze to prepare. The recipe calls for a bit of fresh garlic and grated ginger, but if you don't have access to them, feel free to omit them when making the recipe. This recipe tastes just like restaurant-style fried rice, but you can make it faster than it could be delivered, with just a few easy ingredients.
5-Minute Pork Fried Rice
4 cups brown rice
1 cup cooked chicken, shrimp, beef, or pork, chopped
1/2 cup frozen peas
1/2 teaspoon fresh-grated ginger
4 cloves fresh garlic, crushed
1/4 cup soy sauce
1 teaspoon sesame oil (or olive oil)
1 egg, beaten
1/4 cup scallion, diced
In a large skillet, heat oil until sizzling, then add the rice, chicken, peas, ginger, and garlic. Once heated, stir in the soy sauce, then turn the heat to meium-high heat. Make a well in the center of the rice, add the beated egg, and stir the rice sllowly around the pan, until the egg turns white and string, and is cooked through. Toss with diced scallion. Serve immediately