Vegetarian Favorites
For a vegetarian family, Thanksgiving can still be a day to feast. Cook a tofu turkey (tofurkey) and add some delicious vegetarian side dishes to complete your Thanksgiving meal.
(page 2 of 2)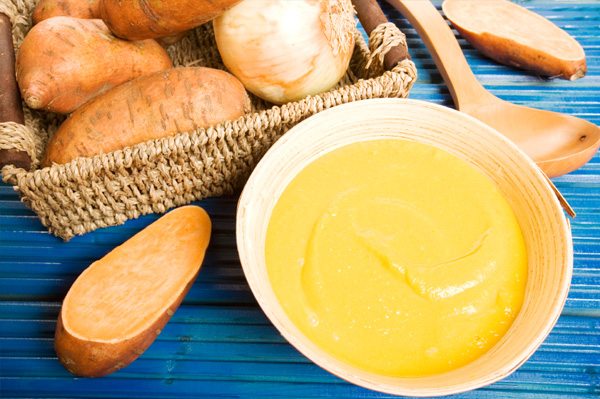 Sweet potato and corn soup recipe
Serves 8
Soup is a fantastic first course on Thanksgiving. This sweet potato and corn soup recipe is highlighted with corn, peppers, and caramelized onions. This recipe was adapted from The New Vegetarian Epicure: Menus for Family and Friends, by Anna Thomas.
Ingredients:
1 large yellow onion, chopped
1 1/2 tablespoons butter or olive oil
Salt
2 pounds sweet potatoes
2 cups water
4 cups vegetable stock
3 cups corn
1 red bell pepper, minced
1 fresh jalapeño, minced
1 cup milk
1/2 lemon, juiced
Cayenne pepper
2 to 3 tablespoons cream
Cilantro or parsley for garnish (optional)
Directions:
Melt butter, add onion and a dash of salt, and sauté, stirring often, until golden brown.
Meanwhile, peel and dice sweet potatoes, place in pot with water and stock, and simmer until tender, about 20 minutes.
Add onions to potatoes. Pour a bit of broth into the onion pan and then pour back into the soup to get all the juices from the onion pan. Purée the soup with a hand mixer or in batches in a blender. Return to pot.
Add corn, peppers, and milk and simmer until tender. Add lemon juice and cayenne, taste and adjust seasoning, then stir in cream.
Serve hot, garnished with cilantro or parsley.
Vegetarian gravy recipe
Yield 3 cups
This vegetarian gravy recipe is simple to make and has a nutty flavor that is a fantastic complement to tofurkey.
Ingredients:
2 tablespoons vegan margarine
3 tablespoons flour
2 cups vegetable stock
1 cup ground toasted almonds
Salt and pepper to taste
Directions:
Heat the margarine in a saucepan until melted. Whisk in flour and stir for 1 to 2 minutes continuously.
Remove from heat for 2 minutes, then return saucepan to stove and whisk in stock and nuts.
Simmer, stirring constantly until thickened (approximately 5 minutes).
Season with salt and pepper; serve hot.
Check out these other vegetarian Thanksgiving recipes including holiday stuffing, roasted squash, and pumpkin muffins >>
More vegetarian holiday recipes
Vegetarian Thanksgiving recipes
Vegetarian Thanksgiving dessert recipes
Vegetarian holiday recipes