Cranberry Creations
Cranberry sauce is a Thanksgiving tradition in many families. This year, try something new by adding fresh cranberries to breads, desserts, and other holiday recipes.
(page 3 of 3)
Cranberry, almond, and cinnamon tart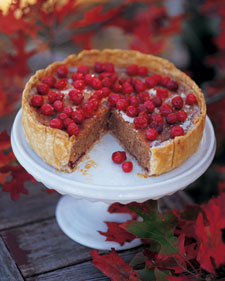 Serves 12
Want to serve something completely different for dessert on Thanksgiving? This cranberry tart from Martha Stewart looks stunning and tastes delicious.
Ingredients:
1 1/2 cups fresh cranberries
1/2 cup plus 1/3 cup granulated sugar, plus more for sprinkling
1 tablespoon water
All-purpose flour, for dusting
Pâte Sucrée (recipe below)
1 large egg white, lightly beaten
8-ounces cranberry jam or preserves
10 tablespoons unsalted butter, room temperature
3 large eggs
1/2 teaspoon pure vanilla extract
6-ounces (about 1 1/4 cups) whole almonds, finely ground in a food processor
1 teaspoon ground cinnamon
1/4 teaspoon salt
Directions:
Put fresh cranberries, 1/3 cup sugar, and the water into a saucepan over medium heat and cook, stirring to dissolve sugar, until cranberries have just softened, about 3 minutes. Remove from heat, and let cool completely.
On a lightly floured work surface, roll out dough to a 12-inch circle, 1/8 to 1/4-inch thick. Transfer to an 8 by 2-inch springform pan, pressing crust into bottom and up sides. Trim excess flush with rim. Refrigerate for 30 minutes.
Preheat oven to 350 degrees F. Prick tart crust all over with a fork. Cut a 12-inch round of parchment, and place on top of chilled crust. Fill with pie weights or dried beans. Bake for 10 minutes. Remove weights and parchment, and brush crust lightly with egg white. Return to oven, and bake until pale golden, about 25 minutes. Refrigerate remaining egg white. Let crust cool in pan on a wire rack for 10 minutes.
Raise oven temperature to 375 degrees F. Spread jam over bottom of tart crust.
Beat butter and remaining 1/2 cup sugar with a mixer on medium-high speed until pale and fluffy, about 3 minutes. Add eggs, one at a time, beating well after each addition. Beat in vanilla. Reduce speed to medium. Slowly add ground almonds, cinnamon, and salt and beat until just combined. Spread mixture over jam-covered crust.
Bake tart until filling is set and has darkened slightly, 45 to 50 minutes. (If top darkens too quickly, cover loosely with foil.) Remove tart from oven, brush top with egg white, and sprinkle with sugar. Return to oven and bake for 5 minutes more. Let cool on a wire rack for 15 minutes. Remove from pan and top with candied cranberries. Serve warm.
Pâte Sucrée ingredients:
1 1/4 cups all-purpose flour
4 1/2 teaspoons granulated sugar
1/4 teaspoon salt
1 stick cold unsalted butter, cut into small pieces
1 large egg yolk
2 tablespoons ice water
Directions:
Pulse flour, sugar, and salt in a food processor until combined. Add butter and process until mixture resembles coarse meal, about 10 seconds.
Lightly beat yolk with ice water. With processor running, add yolk mixture in a slow, steady stream through the feed tube, and process until dough just holds together (no longer than 30 seconds).
Turn out onto a work surface, and shape into a disk. Wrap in plastic and refrigerate for at least 1 hour (or up to 2 days), or freeze for up to 1 month.
A new twist on A Thanksgiving staple
Cranberry sauce with port wine recipe
Cranberry sauce with port wine is a great side dish for Thanksgiving or Christmas dinner. You can make this sauce the night before and refrigerate in your serving dish. And, of course, you will have some port left over for your guests after dinner!
More Thanksgiving side DISH ideas