Three Amazing
Gravy Recipes
Don't serve plain gravy out of a jar or packet! This Thanksgiving, try one of these tasty gravy recipes to make your meal special.
(page 3 of 3)
Portobello mushroom gravy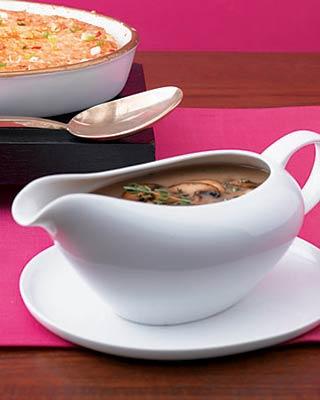 Yield 4 cups
We spotted this yummy mushroom turkey gravy recipe in "Woman's Day." It's a fantastic timesaver. You can make this gravy two days ahead and reheat on a stovetop or in a microwave.
Ingredients:
2 tablespoons light butter
10-ounces sliced mushrooms
1/2 teaspoon dried thyme
1 box, 18.3-ounces, creamy portobello mushroom soup (Campbell's Select)
1 jar, 12-ounces, turkey gravy
Directions:
Melt butter in a large skillet. Add mushrooms and thyme; sauté over medium-high heat for 4 minutes, or until mushrooms are golden brown.
Stir in soup and gravy; bring to a boil. Simmer 1 minute for flavors to blend.
More gravy recipes
Turkey gravy recipes
How to make the best Thanksgiving gravy
Guiltless low fat turkey gravy