Three Amazing
Gravy Recipes
Don't serve plain gravy out of a jar or packet! This Thanksgiving, try one of these tasty gravy recipes to make your meal special.
(page 2 of 3)
White wine turkey gravy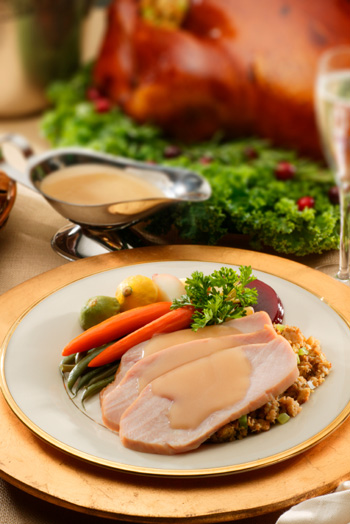 Yield 6 cups
White wine and rosemary make this savory gravy a Thanksgiving favorite.
Ingredients:
4 1/2 cups turkey drippings
1 cup dry white wine
1 tablespoon dried rosemary
3/4 tablespoon black pepper
3 tablespoons corn starch
Salt to taste
Directions:
Strain the turkey drippings through a mesh sieve into a large saucepan. Set aside 1 cup of the drippings in a medium bowl. Stir white wine, rosemary, and black pepper into the drippings in the saucepan, and bring to a simmer over medium-low heat.
Simmer for about 15 to 20 minutes. Whisk cornstarch into the drippings in the bowl, and then whisk the cornstarch mixture into the hot gravy. Allow the gravy to simmer until thickened, about 3 to 5 minutes.
Add salt to taste. Remove any large pieces of rosemary before serving.
Up next: Easy mushroom gravy >>