Salty-Sweet
Bacon Treats
Bacon isn't just for breakfast and BLTs. Bacon can be an incredible ingredient in cookies, ice cream, and more. Check out these yummy recipes for salty-sweet bacon treats.
(page 2 of 3)
Maple-bacon chocolate chip cookies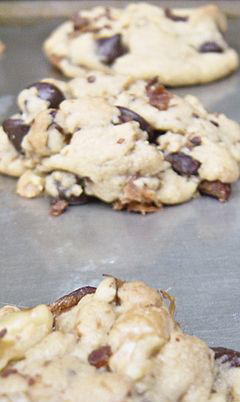 Yield 24 cookies
Add bacon bits to your favorite cookie recipes for a snack your whole family will love. These maple-bacon chocolate chip cookies are delicious, salty-sweet goodness.
Ingredients:
2 cups all-purpose flour
1 teaspoon baking powder
1 teaspoon baking soda
1/2 teaspoon salt
1 cup butter, room temperature
3/4 cup packed brown sugar
3/4 cup white sugar
2 eggs
1 teaspoon vanilla extract
1 teaspoon maple extract
1/2 cup cooked bacon, chopped
1 cup semisweet chocolate chips
Directions:
Preheat oven to 350 degrees F. Line two baking sheets with parchment paper. Whisk together flour, baking powder, baking soda, and salt; set aside.
Beat together the butter, brown sugar, and white sugar in a large bowl until smooth. Add one egg; beat until blended into the butter mixture. Add the second egg, vanilla, and maple extract. Beat until well blended and lightly fluffy.
Stir the flour mixture into the butter mixture a bit at a time, mixing just until combined. Stir in the bacon and chocolate chips. Scoop rounded spoonfuls onto prepared baking sheets.
Bake 12 minutes, or until edges turn golden brown. Remove from the oven and cool on a wire rack.
Up next: Bacon ice cream >>