Sensational Thanksgiving Sides
The same Thanksgiving meal can get a little ho hum year after year. If you are looking for something different for your Thanksgiving dinner table this year, mix things up with one of these out of the ordinary side dishes.
(page 3 of 4)
Wild rice stuffed squash recipe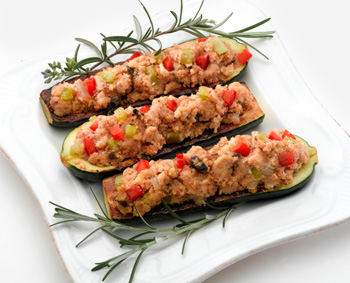 Serves 8
Squash is a terrific choice for Thanksgiving. This recipe is simple and delicious, plus your guests will love the presentation.
Ingredients:
1, 6-ounce, package long grain and wild rice mix
2 1/3 cups chicken broth
1 teaspoon rubbed sage
1 teaspoon dried thyme
2 celery ribs, chopped
1 medium onion, chopped
1 tablespoon vegetable oil
3/4 cup dried cranberries
1/2 cup pecans, toasted and coarsely chopped
2 tablespoons minced fresh parsley
4 medium acorn squash
3/4 cup water
Directions:
In a large saucepan, combine the rice and seasoning mix, along with chicken broth, sage, and thyme. Bring to a boil. Reduce heat and cover. Simmer for 25 minutes, or until rice is tender and liquid is almost absorbed.
Meanwhile, in a large skillet, sauté celery and onion in oil until tender. Stir in cranberries, pecans, and parsley. Remove from heat and stir in the rice mixture.
Cut squash in half widthwise. Remove and discard seeds and membranes. Cut a thin slice from the bottom of each half so that the squash sits flat. Fill squash halves with about 1/2 cup rice mixture. Place in a greased baking pan. Pour water into pan.
Coat one side of a large piece of heavy-duty foil with nonstick cooking spray. Cover pan tightly with foil, coated side down. Bake at 350 degrees F for 60 minutes, or until squash is tender.
Up next: Corn casserole >>