Pumpkin Cake Roll And More
Turkey, cranberry sauce, pumpkin pie...if you feel like your Thanksgiving menu is getting a little stale, mix things up this year with a new dessert. Instead of pie, bake a Thanksgiving cake or other delicious dessert. Check out these unique recipes for pumpkin cake roll, apple butter spice cake, and cranberry-pear crisp.
(page 3 of 3)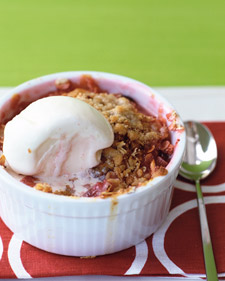 Cranberry-pear crisp recipe
Serves 6
This Martha Stewart recipe uses fresh cranberries, which are generally available from October through December. Rinse cranberries in a bowl of cold water before using. Any unripe berries will float to the top and may be discarded.
Ingredients:
4 to 6 firm pears, cut into 3/4-inch pieces
1 tablespoon fresh lemon juice
1 1/2 cups cranberries
1/3 cup sugar
1/2 cup flour
1/2 cup chilled butter
1/4 cup granulated sugar
1/4 cup light brown sugar
1/4 teaspoon cinnamon
1 cup rolled oats
Pinch of salt
Vanilla ice cream (optional)
Directions:
Preheat oven to 400 degrees F. Peel and cut 4 to 6 firm pears into 3/4-inch pieces to yield 6 cups. In a large bowl, toss pears with 1 tablespoon fresh lemon juice. Add 1 1/2 cups cranberries and 1/3 cup sugar; toss well.
Transfer to six 8-ounce ramekins (or a 3-quart baking dish). Sprinkle with topping (see below). Bake until the fruit is tender and topping is golden, about 25 minutes. Let cool at least 30 minutes before serving with vanilla ice cream, if desired.
Topping: In a food processor, pulse 1/2 cup flour with 1/2 cup (1 stick) chilled butter until pea-size clumps form. Add 1/4 cup each granulated and light brown sugar, 1/4 teaspoon cinnamon, 1 cup rolled oats, and a pinch of salt; pulse until large, moist clumps form, about 10 times.
A gluten free dessert option
Raw Pumpkin Pudding?
Jason Janiak of Raw Creations shares his raw, vegan, gluten free pumpkin pudding recipe.
More Thanksgiving dessert ideas
Unbelievable Thanksgiving pies
Creative Thanksgiving cocktails
Apple dessert recipes for fall