Colorful Holiday Decorations
When you are decorating for the holiday season, it's not all about red and green. Check out these modern holiday color palettes that are perfect for dressing up your tree, table, and all around your home.
(page 3 of 5)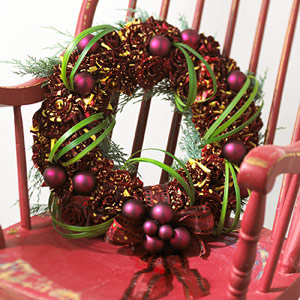 Violet and green
A new twist on the traditional red and green color scheme is violet and green. It's a little more regal and sophisticated. This violet and green wreath was spotted on the "Better Homes and Gardens" website.
To make this wreath, head to your local craft store to find the items you need. It features ball ornaments, silk flowers, and green faux foliage. You can easily attach the items to a foam wreath with floral picks. Also, use violet tablecloths and napkins, create a centerpiece for your table with violet flowers and add touches of silver to finish off the look.
Up next: White and turquoise >>