Go Ga-Ga
For Gift Wrap
'Tis the season for holiday party after holiday party, decorating the whole house… taking it all down in a month (ugh!) and not only getting the perfect gift, but also wrapping it perfectly!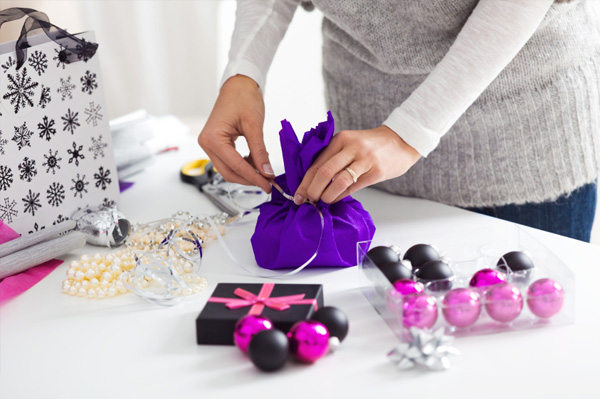 While we can't help you with the former, we can lighten your load a little by inspiring you to switch out your stale seasonal gift-wrap for some modern new ones. Don't forget to get those packages shipped out on time!
Make it personal
When you've got a title like Manager of Where Creativity Happens, it's sort of your job to be creative. So, who better to inspire us with gift-wrap ideas than Michaels' Jo Pearson. Yes, she's the one with the cool title.
When it comes to gift-wrap, Pearson suggests making it personal. Like, really personal. She says making a collage with photocopies of family photographs is a fun way to not only wrap your gifts, but also remind friends and family of some really great times together. Like past Christmases, for example.
Another fun idea, photocopy a picture of the person the gift is for, and use it as a gift tag.
Custom Christmas wrap
If you're not a DIYer, leave it to the professionals on the Internet.… Well, in a sense! Companies like Custom Wrapping Paper allows you to upload photos to be interwoven into various themes of gift-wrap. (Christmas included, of course!)
Not-so-boring brown
Brown Kraft paper (kind of like butcher paper, but not so… meat related) has a zillion uses and gift-wrapping just happens to be one of the greatest ones because you can be as simple or as elaborate as you can dream it to be!
Pearson suggests letting kids draw, color, stamp, finger paint, sponge paint, stencil, or apply stickers on the paper before wrapping gifts… particularly for family members. A tip on this one: Use tape that won't tear the paper. Grandparents will cherish the gift-wrap as much as the gift in this case!
Peek-a-boo
Give your gift recipients a little taste of what's inside with a little game of peek-a-boo paper. Pearson says using fun Christmas-theme shaped hole punches is another fun way to give brown craft paper a whole new holiday look.
Lighten up!
Okay, enough with the brown Kraft paper. Lighten up, literally, with a sophisticated white gift-wrap. Pearson says you can dress up plain white paper or even plain old scrapbook sheets with colorful bows left over from last year.
Remember, don't get stuck using the same old Christmas colors–Pearson says the new colors of the season come in hues of lime green, bright pink, and orange. Sounds like our kind of Christmas!
Bring back the bows
In addition to using last year's bows, a great addition to plain white gift-wrap is an ornament tied on top. In the spirit of triple-R (reduce, reuse, recycle), Pearson says this can be an ornament that you already own (and are ready to part with). This is also a great way to pass along heirloom ornaments to the next generation. (Just wait until they are old enough to appreciate–and not break–them!)
Non-traditional tissue
Tissue paper is a great bargain, and it can be dressed up in so many ways! Use a few layers of silver or gold tissue paper for a truly sophisticated gift-wrap. Adorn it with simple ribbon and a sprig of mistletoe for your honey, a candy cane for the kiddos, or a few wine charms for your bestie (BFF).
Something old, something new
In place of traditional gift-wrap, get inspired by making something old new again. Wrap your mom's gifts in leftover scraps of fabric, your boss' gift in yesterday's WSJ, and your workout buddy's with pages of last month's SELF.
Holiday how-to
How to wrap a gift
Follow these simple steps to wrap a gift perfectly.
Holiday gift ideas