Host A Home Run
Of A Party!
The World Series will be starting in just a few days and no matter who you are rooting for, it's a fun time to get your family and friends together to enjoy great food, great drinks and, of course, watch every exciting minute of the games.
(page 2 of 2)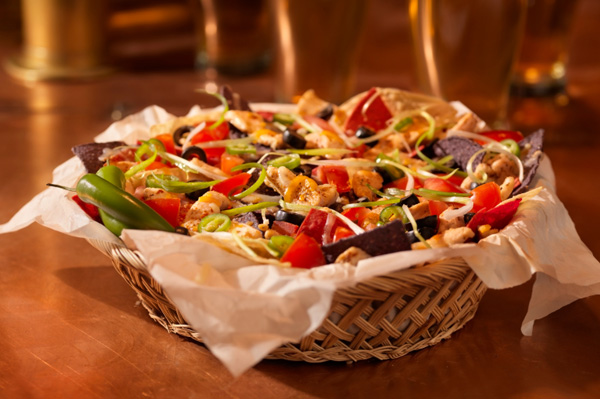 BBQ Chicken Nachos
Makes 6 to 8 servings
Ingredients:
4 boneless, skinless chicken breasts
2 cups ketchup
1 garlic clove, peeled and minced
1/4 cup brown sugar
16 corn tortilla chips
15-ounce can black beans
2 1/4-ounce can sliced olives, drained
2 medium plum tomatoes, chopped
1 can jalapeño peppers, sliced
3 cups shredded Monterey Jack cheese
Directions:
Cook chicken in a skillet until cooked through and no longer pink inside. Let chicken cool for a few minutes and shred with a fork into pieces.
Meanwhile, mix ketchup with garlic and brown sugar until combined.
Mix shredded chicken with ketchup mixture and spoon on top of each tortilla chip.
Arrange chips on an aluminum foil-covered baking sheet and top with beans, olives, tomatoes, peppers, and cheese.
Bake in a 350 degree F oven until cheese melts, about 5 to 7 minutes.
Mini Corn Dogs with Blue Cheese Sauce
Makes 6 to 8 servings
Ingredients:
3/4 cup all-purpose flour
1/3 cup yellow cornmeal
1/2 tablespoon baking powder
1/2 teaspoon salt
1 1/2 tablespoons cold butter, cubed
1/2 tablespoon shortening
1/2 cup whole milk
24 mini hot dogs
1/4 pound crumbled blue cheese
1/2 cup mayonnaise
1/2 cup sour cream
2 tablespoons fresh lemon juice
Hot pepper sauce, to taste
Directions:
Preheat oven to 400 degrees F.
Combine flour, cornmeal, baking powder, and salt in a bowl. With 2 knives or a pastry cutter, cut in butter until a coarse crumb is made; stir in milk until a soft dough is formed.
Knead dough on a flat, floured surface until smooth; roll dough out into a large circle.
Using a round cookie cutter, cut out 24 small circles. Wrap each hot dog in a circle and place on a baking sheet covered in aluminum foil.
Bake until golden, about 10 to 12 minutes.
Meanwhile, combine blue cheese with mayonnaise, sour cream, lemon juice, and hot sauce and stir until combined. Serve with warm corn dogs.
Cracker Jack Shot
Makes 1 shot
1/2-ounce butterscotch schnapps
1/2-ounce whiskey
Directions:
Pour schnapps in a shot glass and top with whiskey.
Related Articles