(page 2 of 2)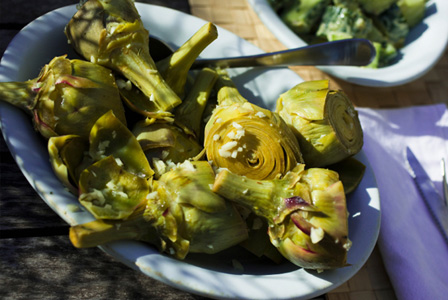 We all know that eating plenty of fruits and vegetables is good for your health, but we may not know exactly what to eat to help prevent cancer.
Eat for your health
There are tons of fruits and vegetables with cancer-preventing qualities so eat up. Just remember to continue to take care of yourself in other ways because healthy eating is only part of the equation.
Steamed artichokes
Makes 4 to 6 servings
Ingredients:
3 tablespoons Parmesan cheese
2 cups Italian style breadcrumbs
2 garlic cloves, finely minced
Pepper, to taste
3 medium artichokes, rinsed and stem and tips trimmed
Directions:
Combine cheese, breadcrumbs, garlic and pepper in a bowl.
Place artichokes on a flat surface and spoon breadcrumb mixture in between leaves.
Place a steamer basket in the bottom of a pot and fill with about an inch of water. Arrange artichokes in steamer basket, cover pot and steam for 10 to 15 minutes or until artichokes are tender.
Remove artichokes with a slotted spoon and serve immediately.
Fruit sorbet
Makes 4 to 6 servings
Ingredients:
2 cups pineapple, diced and frozen
1/3 cup raspberries, frozen
1/3 cup blueberries, frozen
1/3 cup strawberries, sliced and frozen
1 mango, diced and frozen
1 cup pineapple juice
2 tablespoons almonds, chopped
Directions:
Remove fruit from freezer and let thaw for 5 to 10 minutes. Combine all fruits with pineapple juice in blender and blend until smooth.
Spoon mixture into individual cups or one large container. Freeze for at least 30 minutes. When ready to serve, sprinkle with almonds.
Spinach and tomato stuffed squash
Makes 4 servings
Ingredients:
4 fresh summer squash
2 cups frozen spinach, thawed
1 tablespoon plain low-fat yogurt
1 onion, chopped
1 teaspoon dill weed
2 tomatoes, chopped
Directions:
Steam squash in a steamer until tender. Remove squash and when cooled, slice in half lengthwise. Scoop out flesh and place in a blender. Reserve cavity of squash.
Add spinach, yogurt, onion and dill to the blender and pulse until just chopped.
Fold tomatoes into mixture and spoon into the empty squash. Place squash on foil-covered baking sheets and bake at 350 degrees F for 15 to 20 minutes.
Watch: How to reduce your risk of breast cancer
SheKnows.com gives you a few tips on how to reduce your risk of getting the second most common cancer, breast cancer!
More cancer fighting tips
Recipes to prevent breast cancer
3 Cancer-fighting recipes
Foods that fight cancer