Savory Pumpkin
Recipes
If you have begun to see pumpkins of all sizes at your local farmers' market but aren't sure what to do with them besides decorations and pumpkin pie then you're in luck! Read on for tips on how to create delicious and satisfying savory pumpkin dishes.
(page 2 of 2)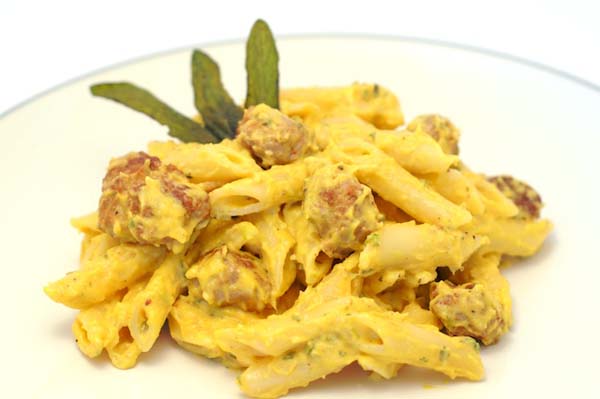 Pumpkin Chorizo Pasta
Makes 4 servings
Ingredients
 1 yellow onion, peeled and chopped
 1 pound crumbled chorizo
 4 garlic cloves, peeled and minced
 1 1/2 to 2 pounds pumpkin flesh, peeled seeded, and diced
 1 cup vegetable stock
 1/2 cup heavy cream
 1/4 teaspoon ground nutmeg
 1/4 teaspoon salt
Freshly ground black pepper
 1 pound pasta (spaghetti or penne works well)
Grated parmigiano cheese
Directions
Sauté onion and chorizo until onion is translucent and chorizo is cooked through; add garlic and sauté a few seconds; set aside.
Combine pumpkin and vegetable stock in pot and bring to a boil. Cover pan, lower heat, and simmer for 10 to 15 minutes or until pumpkin is tender. Stir in cream, nutmeg, salt, and pepper and mash well with a potato masher, making as chunky or smooth as you like. Mix chorizo mixture into sauce and set aside.
Cook pasta according to package directions or until al dente. Pour pumpkin sauce over pasta and gently toss. Top with grated cheese.
Pumpkin Chili
Makes 4 to 6 servings
Ingredients
 1 white onion, chopped
 1/2 red bell pepper, chopped
 1/2 yellow bell pepper, chopped
 1 clove garlic, peeled and minced
 1 tablespoon vegetable oil
 1 pound ground turkey
 15 ounces kidney beans, drained
 23 ounces tomato juice
 14.5 ounces diced tomatoes
 3 cups pumpkin puree
 2 tablespoons chili powder
Salt and pepper to taste
Grated cheddar cheese for garnish
Directions
Saute onion, peppers, and garlic in oil until tender. Add turkey and cook until browned. Drain excess oil and pour in beans, tomato juice, diced tomatoes, and pumpkin puree. Season with chili powder, salt, and pepper and bring to a simmer.
Cover pot and cook 20 to 25 minutes or until mixture is well combined. Top with cheese when serving.
Pumpkin Fries
Makes 24 servings
Ingredients
 1 cup pumpkin puree
 1 egg, beaten
 1 cup all-purpose flour
 1 teaspoon baking powder
 1 teaspoon chili powder
 1 teaspoon pumpkin pie spice
 1 teaspoon salt
Vegetable oil for frying
Directions
Combine pumpkin with egg, flour, baking powder, chili powder, pie spice, and salt; mix until well combined.
Heat oil to 325 degrees F in a deep skillet.
Spoon batter by the tablespoon into hot oil and fry 2 to 3 minutes or until golden brown. Remove with a slotted spoon and drain on paper towels.
More pumpkin recipes from sheknows
Recipes with Roasted Pumpkin Seeds