Viva Mexico!
Many people think Cinco de Mayo is the celebration of Mexican independence, but really, Mexican Independence Day is celebrated on September 15th and 16th. So this year, celebrate with a Mexican style fiesta with fabulous Mexican cocktails and these traditional Mexican recipes.
(page 2 of 2)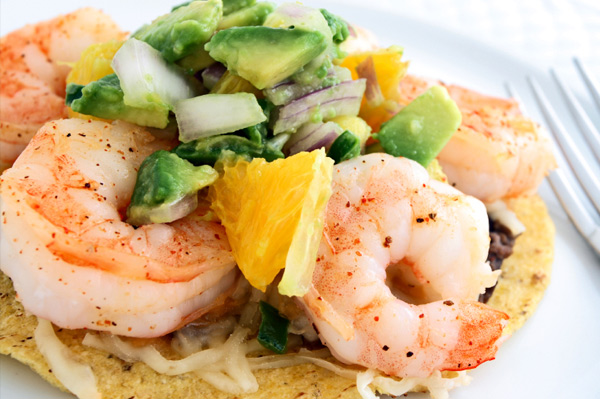 Shrimp and bean tostadas
Makes 6 servings
Ingredients
15-ounce can black beans, drained
Salt to taste
Canola oil for frying
12 medium frozen or fresh shrimp, thawed
5 jalapenos, diced
3 garlic cloves, minced
Pinch Cayenne Pepper
6 6-inch corn tortillas
2 cups shredded romaine lettuce
1 tomato, chopped
1 avocado, diced
1 cup queso fresco
Crema fresca for garnishing
Directions
Heat beans in a pot with a little water until warmed through, mashing as you are cooking; season to taste with salt. Keep in a warm place.
Heat a few tablespoons of oil in a skillet and add shrimp with jalapenos, garlic, and cayenne pepper. Saute until shrimp are cooked through. Keep in a warm place.
Heat oil in a frying pan until it reaches 350 degrees F. Drop tortillas in oil and cook until crispy, about 45 to 60 seconds per side. Remove tortillas and drain on paper towels.
When ready to serve, spread black bean mash on each tortilla then top with lettuce, two shrimp each, tomato and avocado dices, queso fresco, and a drizzle of crema fresca.
Chicken sopes
Makes 6 servings
Ingredients
1/4 cup vegetable shortening
2 cups masa harina
1 1/4 cups warm water
2 tablespoons vegetable oil
4 boneless skinless chicken breasts
Salt and pepper to taste
1/2 cup prepared salsa
2 tablespoon sliced green chiles, minced
1/2 cup manchego cheese, shredded
Directions
Cut shortening into masa harina with two knives until mixture looks like crumbs. Gradually add water to mixture and knead until a smooth dough is formed. Form dough into about 20 small balls then make into flat discs.
Heat oil in a skillet until hot but not smoking. Place dough into oil carefully and cook about 3 minutes per side or until golden.
Remove sopes with a slotted spoon and let drain on paper towels.
Meanwhile, season chicken with salt and pepper and cook on the grill until cooked through. Shred chicken and set aside.
Top sopes with salsa then top with chicken, chiles, and cheese.
Apple pineapple ponche
Makes 10 servings
Ingredients
2 red apples, peeled, cored, and sliced
1 mango, peeled and diced
3/4 cup raisins
1/2 cup cranberries
2 cups diced pineapple
2 tablespoons brown sugar
1 cup sugar
4 cinnamon sticks
8 cups water
1 cup tequila
Directions
Combine apples, mango, raisins, cranberries, pineapple, brown and granulated sugars, cinnamon, and water in a large pot.
Simmer over medium heat until fruit breaks down, about 45 minutes, stirring often. Pour punch into a large container and mix with tequila.
Chill until ready to serve.
More Mexican recipes