Guilt-Free
Fall Desserts
Instead of packing in the calories, enjoy one of these delicious low-calorie, healthy desserts perfect for fall. Prepare these fall-inspired healthy desserts to satisfy your cool weather sweet tooth without breaking your diet.
(page 2 of 2)
Individual apple crisps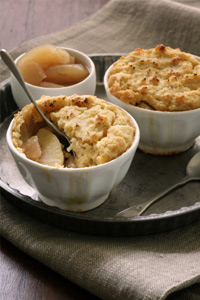 Makes 4 servings
Ingredients
4 Granny Smith apples, peeled, cored, and cubed
1 tablespoon granulated sugar or sugar substitute
2 teaspoons fresh lemon juice
3/4 cup rolled oats
1/4 cup all-purpose flour
2 tablespoons brown sugar or brown sugar substitute
1 teaspoon ground cinnamon
1/4 teaspoon salt
2 tablespoons melted butter
1 cup low-fat whipped cream
Directions
Preheat oven to 350 degrees F and lightly coat 4 individual ramekins with cooking spray.
Toss apples with granulated sugar and lemon juice; set aside.
Combine oats, flour, brown sugar, cinnamon, and salt in a bowl then add butter and combine until mixture looks like crumbs.
Sprinkle oat mixture over top of apples in each ramekin and place in oven. Bake 10 minutes or until apples are tender. Remove from oven, let cool, and top with whipped cream.
Chocolate pumpkin low-fat brownies
Makes 16 servings
Ingredients
1/2 cup all-purpose flour
1/2 cup unsweetened cocoa powder
1/2 teaspoon baking powder
1/2 cup sugar substitute for baking
1/8 teaspoon salt
3/4 cup canned pumpkin puree (not pie mix)
4 ounces unsweetened applesauce
2 teaspoons vanilla extract
1 egg, lightly beaten
2 egg whites
Frosting
1/2 (8-ounce)-package low-fat cream cheese, softened
1/4 cup pumpkin puree
1/4 stick unsalted butter, softened
1/2 tablespoon fresh orange juice
1/4 teaspoon vanilla extract
2 cups confectioners' sugar
Directions
Preheat oven to 350 degrees F and coat a 8x8-inch baking pan with cooking spray.
Combine flour with cocoa powder, baking powder, sugar substitute, and salt; set aside.
In a separate bowl stir together pumpkin puree with applesauce, vanilla, egg, and egg whites until well combined.
Gradually beat dry ingredients into wet ingredients and pour into prepared pan. Bake 20 minutes or until a toothpick comes out clean. Let cool before frosting.
Beat cream cheese with pumpkin puree, butter, orange juice, vanilla, and confectioners' sugar until creamy. Spread a thin layer of frosting over top brownies then cut into 16 squares.
Banana pudding
Makes 8 servings
Ingredients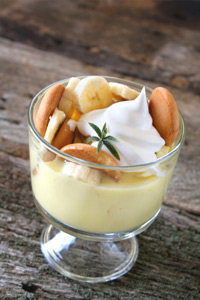 3 1/2 cups fat-free milk, divided
2 packages vanilla fat-free, sugar-free pudding
32 reduced fat wafers cookies
4 bananas, sliced
2 cups thawed low-fat whipped topping
Directions
Combine milk with pudding mix in a pot and whisk, heating until it comes to a simmer.
Meanwhile, arrange 2 wafer cookies in the bottom of 8 individual glass ramekins then top with banana slices and pudding; repeat with one more layer then top with whipped topping.
Place pudding in refrigerator and chill until pudding sets, about 2 to 3 hours.
More fall recipes