The Top 12
Organic Snacks
If walking the aisles at the grocery store, looking over products, reading labels and ingredients, sorting through prices per ounce and cost per box, researching a company's integrity, and trying to purchase healthy snacks that fit in your budget sounds like a recipe for exhaustion, you're in luck.
(page 5 of 12)
Good Health Naturals Crispy Cinnamon Apple Chips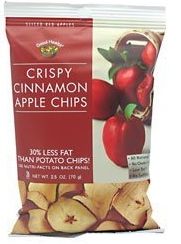 Crispy red apples, covered with little beads of evaporated cane juice, what's not to love? Our group of taste testers all agreed that this was one snack worth keeping on hand. Easy to grab, easy to eat, and with 30 percent less fat than potato chips, all of our panelists loved these sweet apple chips. To find a retailer near you, visit www.goodhealthnaturalfoods.com.
Up next: More great organic snacks >>