The Top 12
Organic Snacks
If walking the aisles at the grocery store, looking over products, reading labels and ingredients, sorting through prices per ounce and cost per box, researching a company's integrity, and trying to purchase healthy snacks that fit in your budget sounds like a recipe for exhaustion, you're in luck.
(page 3 of 12)
Garden of Eatin' Puffed Tortilla Chips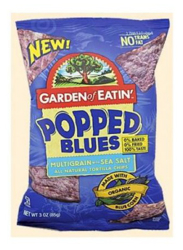 Crispy, crunchy, and perfectly salty, the Garden of Eatin' popped chips were loved for being totally snackable, yet unexpectedly full of fabulous nutrition. Our panel loved that the chips were made with brown rice, quinoa, and flax seeds while delivering crave-worthy flavor. Though the chips are billed as tortilla chips, most of our taste testers agreed that they are too salty to be dipped into salsa and worked best as a grab-and-snack chip. Available at grocers and health food stores nationwide.
Up next: More great organic snacks >>