The Top 12
Organic Snacks
If walking the aisles at the grocery store, looking over products, reading labels and ingredients, sorting through prices per ounce and cost per box, researching a company's integrity, and trying to purchase healthy snacks that fit in your budget sounds like a recipe for exhaustion, you're in luck.
(page 2 of 12)
Earnest Eats Baked Whole Food Bars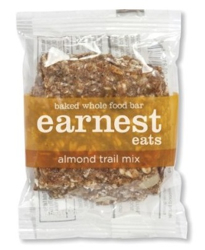 Craving a cookie? Earnest Eats baked whole food bars are a dense, chewy square of organic goodness and mouth-satisfying flavor. Our testing panel especially loved the Almond Trail Mix bar with its rich, sweet almond taste and substantially filling size for only 200 calories. Even more popular with our panel was the list of simple ingredients on the back of the bar. Whole grain oats, almond butter, and brown rice syrup, along with a plethora of organically grown nuts and seeds, all go into these soft, chewy bars. What wasn't on the list? Unpronounceable words. Quadruple thumbs up for that, says our panel. Available nationwide in natural food stores, including Whole Foods.
Up next: More great organic snacks >>