Easy Vegetarian
Dinners
These vegetarian dinner recipes aren't just delicious, they are quick and easy to make as well. You can have these meals on the table in less than 30 minutes. Try one of these vegetarian recipes tonight!
(page 5 of 5)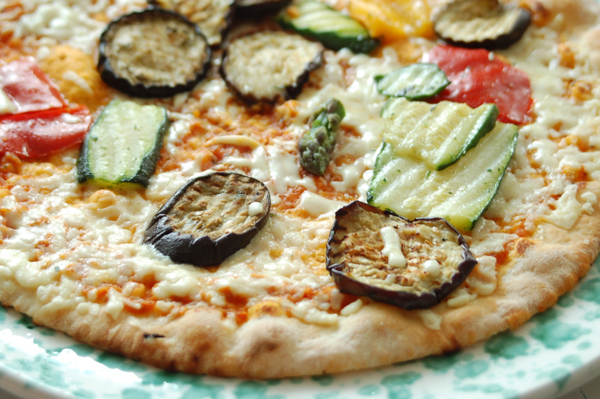 Zucchini & basil pizza
Makes two 10-inch pizzas
Put down the phone. You don't need to call Domino's next time you want a piping hot pizza. Instead, make this yummy vegetarian pizza at home. Recipe courtesy of Williams-Sonoma.
Ingredients:
1 green zucchini, sliced 3/16-inch thick
1 yellow zucchini, sliced 3/16-inch thick
1 tablespoon Parmesan dipping and drizzling oil, plus more for brushing
Salt and freshly ground pepper, to taste
2, 10-inch pizza dough rounds
4-ounces mozzarella cheese, grated
1/2 lemon
1-ounce ricotta salata or goat cheese
6 large fresh basil leaves, minced
Directions:
Preheat a beehive pizza oven according to the manufacturer's instructions, or standard oven to 350 degrees F.
In a bowl, stir together the green and yellow zucchini, the 1 tablespoon of oil, salt and pepper. Let stand for 5 minutes, then drain off the excess liquid.
Place 1 pizza dough round on a floured pizza peel. Lightly brush the dough with oil. Sprinkle half of the mozzarella on the dough and top with half of the zucchini.
Transfer the pizza to the oven, tapping the peel lightly to release the pizza. Bake until the cheese has melted and the crust is golden, 8 to 10 minutes, rotating the pizza occasionally to ensure even browning.
Transfer the pizza to a cutting board and squeeze a few drops of lemon juice over the pizza. Grate or crumble half of the ricotta salata over the pizza and sprinkle with half of the basil. Cut into slices and serve immediately. Repeat to cook the remaining pizza.
More vegetarian meal ideas