Easy Vegetarian
Dinners
These vegetarian dinner recipes aren't just delicious, they are quick and easy to make as well. You can have these meals on the table in less than 30 minutes. Try one of these vegetarian recipes tonight!
(page 4 of 5)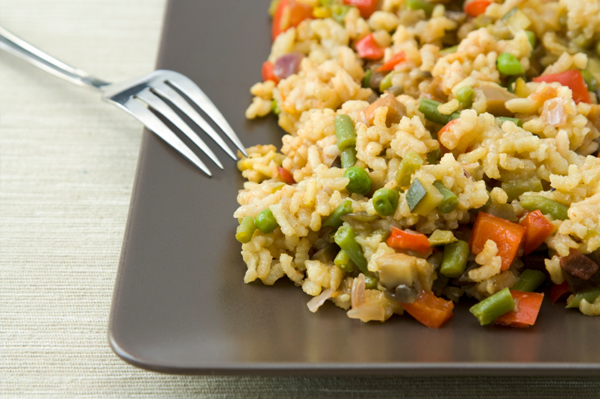 Vegetarian paella
Serves 4
Using soy sausage and a variety of colorful vegetables, this vegetarian dinner will satisfy your entire family.
Ingredients:
2 teaspoons olive oil
8-ounces soy sausage, cut into 1-inch pieces
2 cloves garlic, minced
1 cup marinated artichoke hearts, quartered
1 cup sliced yellow squash
1 cup baby squash or sliced zucchini
1 cup sliced carrots
1 bunch asparagus, ends trimmed, cut into 2-inch pieces
1/2 cup frozen green peas
14-ounce can diced tomatoes
6 to 8 saffron threads
1/2 teaspoon paprika
2 bay leaves
2 cups cooked rice
1/2 cup reduced-sodium vegetable broth
1/4 cup chopped fresh parsley leaves
salt and freshly ground black pepper
Directions:
Heat oil in a large paella pan or skillet over medium-high heat.
Add soy sausage and garlic and cook 2 minutes. Add artichokes, squash, zucchini, carrots, asparagus, peas, tomatoes, saffron, paprika, and bay leaves, bring to a simmer and cook 5 minutes. Add rice and broth and cook for 5 minutes, until liquid is absorbed. Remove from heat, remove bay leaves and stir in parsley. Season, to taste, with salt and black pepper.
Courtesy of The Food Network.
Up next: Zucchini & basil pizza >>