Easy Vegetarian
Dinners
These vegetarian dinner recipes aren't just delicious, they are quick and easy to make as well. You can have these meals on the table in less than 30 minutes. Try one of these vegetarian recipes tonight!
(page 2 of 5)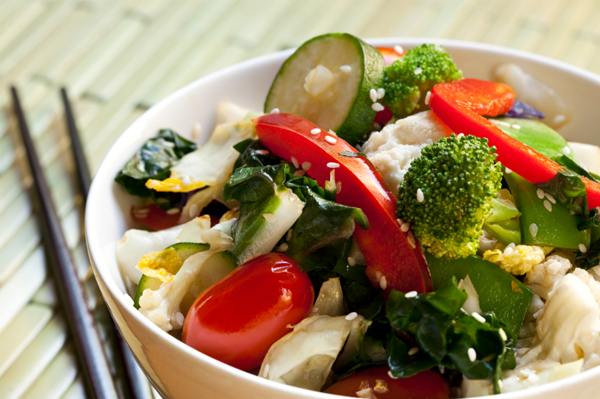 Chinese stir "fry"
Serves 8-10
This recipe was provided by Susan Schenck, the author of the 2-time award-winning book, The Live Food Factor: The Comprehensive Guide to the Ultimate Diet for Body, Mind, Spirit & Planet.
Ingredients:
1 foot-long daikon radish
4 carrots
1 bunch green onions
5 to 6 stalks celery
1/2 head small cabbage
2 zucchinis
1 red bell pepper
1 cup mung bean sprouts
3/4 cup watercress
3 stalks broccoli
1 1/2 cups snow peas
slivered raw almonds or raw cashews
sesame seeds
tahini sauce
tempeh (optional)
Directions:
With the food processor, grate the daikon radish, and slice the carrots, celery, green onions, cabbage, zucchinis, and bell pepper. (This is one time you will be especially thankful for your food processor: a job that could otherwise take an hour will be finished in minutes!) Put into a large bowl.
Cut off florets from broccoli and toss into the mixture. Chop off tips of watercress and toss in along with mung bean sprouts. Cut off stringy ends of snow peas and toss in.
Fold in about a cup of tahini sauce. Top off with almond slivers (or truly raw cashews, sliced) and sesame seeds. Chop up tempeh and fold into mixture.
Up next: Vegetable jalfrezi >>