Gluten-Free
Snack Recipes
Though a gluten-free diet poses dietary restrictions for popular snacks that contain gluten such as pretzels, crackers, nutrition bars, and other wheat based baked goods, your child's after school snack selection doesn't have to be boring, based only on packaged products labeled gluten-free. Here are some naturally gluten-free snack foods, and a few after school snack recipes, that are healthy, easy to make, and, yes, gluten-free.
(page 2 of 2)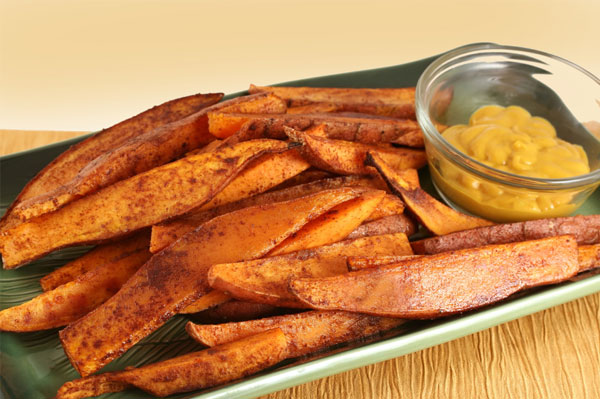 Easy gluten-free after school snack recipes
Oven Baked Sweet Potato Fries
Serves 2
Ingredients:
1 large sweet potato, cut into steak fries
2 teaspoons olive oil
Salt and freshly ground black pepper
Directions:
Preheat oven to 400°F.
In a large bowl, toss fries and olive oil to coat. Season with salt and pepper.
Spread fries on a large baking sheet and bake for 20 to 25 minutes, or until they are tender and lightly browned.

Frozen Chocolate Bananas
Serves 2 to 4
Ingredients:
2 small bananas, peeled
2 ounces dark chocolate, chopped
Finely chopped nuts
Directions:
Cut bananas in half crosswise. Insert a lollipop or wooden ice cream stick into each half.
Place chocolate in a wide, shallow bowl and microwave in 20 to 30 second intervals, stirring after each interval, until chocolate is just melted and smooth.
Dip or roll bananas in chocolate and sprinkle with nuts. Set on a plate or small baking sheet and place in the freezer for 30 minutes. You also may make these ahead of time.Wwrap them with plastic after they are frozen solid and store in the freezer.

Crackers, Eggs, and Pesto – Oh My
Serves 2 to 3
Ingredients:
Homemade pesto (or a gluten-free store bought brand)
2 hard boiled eggs, peeled
Gluten-free crackers
Directions:
Place a small bowl of pesto in the center of a plate.
Cut eggs crosswise into slices and fan out around one side of the plate. Arrange crackers on the other side of the plate.
Place a small spoon or knife in the pesto. Show your kids how to spread pesto on a cracker, top with a slice of egg, and eat.
More gluten-free tips recipes