Lunches Your Kids
Will Want To Eat
Instead of sending them back to school with the same old sandwich and chips, pack the kids one of these delicious back to school lunch recipes.
(page 2 of 2)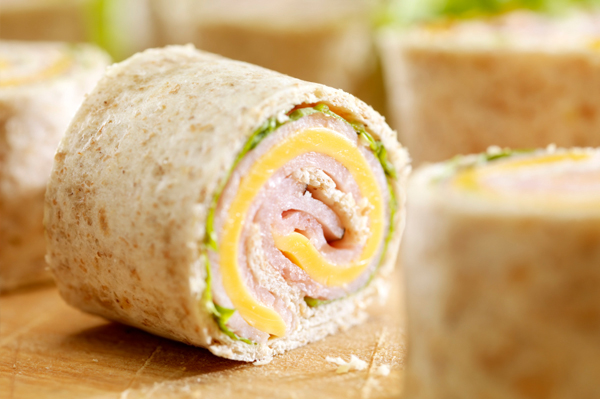 Ham and cheese roll-ups
Makes 2 servings
Ingredients
1/4 cup mayonnaise
1 tablespoon pickle relish
2, 8-inch whole grain tortillas
8-ounces thinly sliced ham
6-ounces thinly sliced Swiss cheese
1 avocado, sliced
1 tomato, sliced
Directions
Combine mayonnaise and relish in a small bowl and mix well.
Spread mayonnaise mixture on tortillas then top with slices of ham and cheese; arrange avocado and tomato slices on top then roll tortillas, folding sides in to seal.
Slice rolled tortillas into 5 to 6 pieces, being sure not to let them open at the seam; wrap in aluminum foil.
Leftover chicken salad sandwiches
Makes 2 sandwiches
Ingredients
2 grilled skinless, boneless chicken breasts, shredded
Black pepper to taste
1 tablespoon mayonnaise
1 teaspoon Dijon mustard
1/2 teaspoon chopped fresh rosemary
1/2 cup watercress
1 yellow tomato, sliced
4 slices crusty bread
Directions
Combine chicken pieces with black pepper, mayonnaise, mustard, and rosemary.
Arrange watercress and tomato slices on 2 pieces of bread then top with chicken salad and remaining bread slices.
Strawberry cheesecake grahams
Makes 2 servings
Ingredients
1/2 cup low fat cream cheese
2 tablespoons strawberry jam
8 graham cracker squares
Directions
Spread cream cheese on one side of four graham crackers and strawberry jam on one side of the other four graham crackers.
Place graham crackers together with cream cheese and jam facing each other.
Related Articles