Freeze Summer Fruit For Winter
How can you preserve summer fruit so you can enjoy it all year long? Just follow these simple tips on freezing, thawing, and preserving your favorite summer produce to enjoy on those cold days of winter.
(page 2 of 2)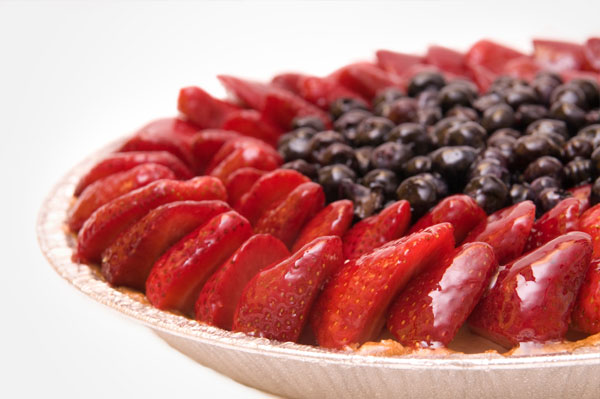 Strawberry-Blueberry Pie Recipe
Makes 8 to 10 servings
Ingredients:
 3/4 cup granulated sugar
 1/2 cup all-purpose flour
 1/4 teaspoon salt
 3 cups low-fat milk
 3 egg yolks, lightly beaten
 2 tablespoons unsalted butter
 1 1/2 teaspoons vanilla extract
 1/2 pint heavy cream
 1 1/2 tablespoons confectioners' sugar
 1 9-inch pie shell
 2 cups frozen strawberries, thawed
 1 cup frozen blueberries, thawed
Directions:
Whisk together sugar, flour, salt, and milk in a saucepan and cook over low heat until it begins to thicken. Spoon a few tablespoons of heated milk into egg yolks to temper and pour eggs into saucepan with milk. Continue cooking for about 2 minutes then remove from heat.
Stir in butter and vanilla and let cool then pour into pie shell; chill until firm. Meanwhile, whip cream with sugar and spread over pie. Top with berries and chill again.
Apricot-Peach Smoothie recipe
Makes 4 servings
Ingredients
2 cups frozen peaches
 2 cups frozen apricots
 1 cup orange juice
 2 cups ice
Directions
Combine all ingredients together in a blender and blend until smooth.
Pork Tenderloin with Pineapple Sauce
Makes 4 servings
Ingredients
 4-1/2 teaspoons cornstarch
 2 tablespoons water
 1 cup frozen pineapple chunks, thawed
 1/2 cup raspberry jam
 2 tablespoons reduced-sodium soy sauce
 1/2 teaspoon garlic powder
 1/4 teaspoon ground ginger
 1 pork tenderloin (3/4 pound)
Directions
Preheat oven to 350 degrees F.
Whisk cornstarch and water until smooth, set aside. Combine pineapple and raspberry jam in a saucepan and cook until mixture is well combined and pineapple has begun to break down a little. Add soy sauce, garlic powder, and ginger then add the cornstarch mixture and cook until sauce has thickened. Remove sauce from heat and set aside in a warm place.
Place pork loin on a aluminum foil covered pan and roast in oven for 15 to 20 minutes or until pork is fully cooked inside, a meat thermometer should read about 160 degrees F.
Remove pork from oven and let rest for a few minutes. Cut meat into slices and top with fruit sauce.
More ideas for summer fruit