Iron Chef
Dinner Recipes
As a working mother of four boys, dinnertime can sometimes feel like an impossible task. In our house, I enlist help. Getting kids excited about food is a great way to teach them healthy eating habits from an early age, and the bonus is extra help in the kitchen!
(page 4 of 4)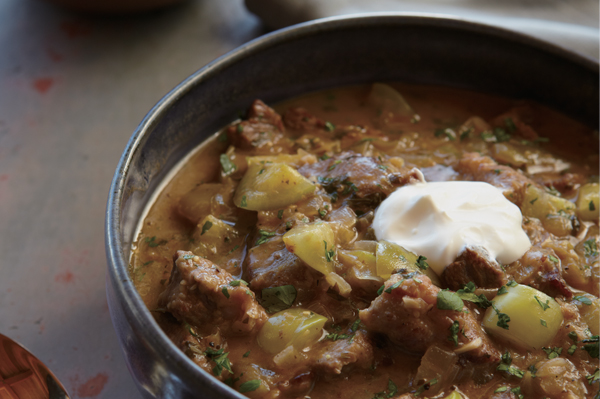 Tomatillo lamb stew recipe
Growing up in a Greek-American household, I developed an appreciation for lamb stew at an early age. This tomatillo lamb stew recipe is my take on a traditional Navarin, a lamb and young vegetable stew.
Ingredients:
1/4 cup all-purpose flour
1/2 teaspoon kosher salt
1/4 teaspoon freshly ground black pepper
3 1/2 pounds boneless lamb shoulder or leg of lamb cut into 1" cubes
1/4 cup olive oil plus more if needed
3 garlic cloves, finely chopped
2 large onions, chopped
1 cup dry white wine
2 cups beef stock
1 cup chopped fresh tomatillos
1 tablespoon fresh cilantro, chopped
2 teaspoons fresh thyme, chopped
1 bay leaf
3/4 cup light sour cream
Directions:
In a shallow dish, combine the flour, salt and pepper. Dredge the lamb cubes in the seasoned flour, shaking off any excess. Discard the flour.
In a large Dutch oven, heat the oil over medium-high heat. When the oil is hot, add about 1/3 of the lamb cubes to the pan. Cook while stirring, until the lamb is browned on all sides, 7-10 minutes.
With a slotted spoon, transfer the lamb to a plate, add the remaining cubes to the pan. Brown the meat as you did the first batch and transfer to the plate. Add oil to the pan if needed, and add the garlic and onions, cook until the onions are soft, about 8 minutes.
Pour in the wine and cook for 3 minutes, scraping the bottom of the pan to deglaze.
Return the lamb to the pan, add the beef stock, tomatillos, chopped cilantro, thyme, and bay leaf, bring to a boil, reduce heat to low, cook for 1-1/2 hours, or until the meat is fork-tender.
With tongs or a slotted spoon, transfer the lamb cubes to a large bowl. Reduce the sauce over high heat until thickened, about 10 minutes.
Skim off the fat and strain the sauce over the meat. Return the meat and sauce to the Dutch oven. This stew can be made up to 2 days ahead. Garnish with sour cream and cilantro.
Grilled Chile-Lime Flank Steak Soft Tacos with Pineapple Sauce recipe
Everyone loves tacos! These are made with an inexpensive cut of meat that gets a lot of flavor from chiles, pineapple and lime.
Ingredients:
Marinade
1 teaspoon chile powder
1/2 teaspoon ground cumin
1/2 teaspoon garlic powder
1 teaspoon kosher salt
1/2 teaspoon freshly ground black pepper
2 tablespoons fresh lime juice
2 tablespoons extra-virgin olive oil
1 1/2 pounds flank steak, trimmed of fat
Directions:
In a small bowl mix the spices, salt, pepper, lime juice, and oil to make a paste.
Place the steak in a shallow dish and rub the paste evenly over both sides. Cover and let marinate for 1 to 4 hours.
Salsa Ingredients:
1 small pineapple
1 small red onion, diced
3 tablespoons fresh cilantro, chopped
2 tablespoons fresh lime juice
1 tablespoon rice vinegar
2 tablespoons extra-virgin olive oil
1 teaspoon kosher salt
1/2 fresh jalapeño or serrano chile, seeded and minced
16, 6-inch corn tortillas
Salsa directions:
Heat your grill to medium-high, or light your charcoal grill 30 minutes before you're ready to cook.
Slice the pineapple into 4 or 5 slabs, discarding the core. Place the pineapple slabs on the hot grill and grill until the fruit begins to brown, 1 to 2 minutes per side.
Let the pineapple cool then dice it.
In a medium bowl, mix the diced pineapple, onion, cilantro, lime juice, vinegar, olive oil, salt, and chile and blend well.
Steak directions:
Grill the steak for 5 to 6 minute on each side, slightly longer for well-done meat.
Remove from the grill and let rest for 10 minutes before slicing.
Meanwhile, place the tortillas on the hot grill and grill for 10 seconds on each side, then wrap in a cloth napkin to keep them warm.
Slice the steak across the grain into 1/2" thick slices and arrange on a serving platter.
Place the tortillas and the bowl of salsa on the table and serve family style.
More quick & easy dinner ideas
Hearty dinner salads
Make-ahead meals to fix and freeze
Flavorful 3-step meals