Iron Chef
Dinner Recipes
As a working mother of four boys, dinnertime can sometimes feel like an impossible task. In our house, I enlist help. Getting kids excited about food is a great way to teach them healthy eating habits from an early age, and the bonus is extra help in the kitchen!
(page 3 of 4)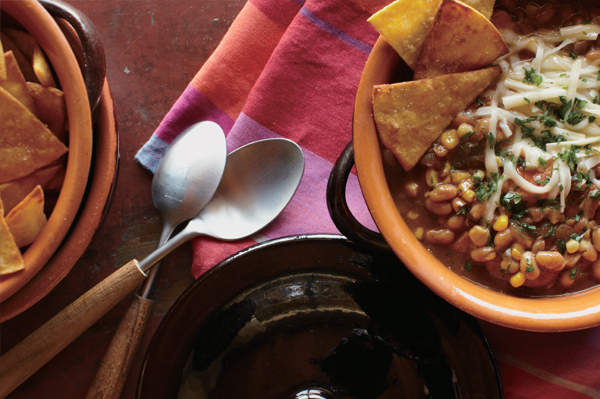 White bean and chicken chili recipe
This recipe is one of my favorites because it's something you can leave on the stove while you catch-up on your day, and it's also the perfect make-ahead meal to serve later. Substituting chicken for beef, this recipe may be served alone or garnished with tortilla chips for a great crunch.
Ingredients:
1 pound chicken tenders or boneless, skinless chicken breasts
2 tablespoons extra-virgin olive oil
1 medium onion, diced
2 garlic cloves
2, 15-ounce cans white or Great Northern beans, drained and rinsed
1 cup corn kernels, fresh or frozen thawed
1, 4-ounce can chopped green chiles
2 teaspoons ground cumin
2 teaspoons pure chile powder
1/8 teaspoons cayenne pepper
3 cups water
2 cups grated Monterey Jack cheese
2 tablespoons fresh cilantro, chopped
Directions:
Season the chicken with salt and pepper.
In a large saucepan, heat the oil over high heat, add chicken pieces and cook, stirring until browned, 2 to 3 minutes.
Lower the heat to medium, add the onion and garlic. Cook until the onion is translucent, 5 to 6 minutes.
Add the beans, corn, chiles, spices and water. Bring to a boil, reduce heat to low and simmer, uncovered, for 1 hour. Serve each bowl with a spoonful of cheese and sprinkling of cilantro.
Spinach paella recipe
This is my go-to dish when I'm short on time. Not only does this present as something labor-intensive, but the spinach and saffron give it beautiful color. In this recipe I recommend turkey sausage, but any sausage may be used.
Ingredients:
4 cups Rich Chicken Stock or store-bought low-sodium stock
1/2 teaspoon crushed saffron threads
1 pound chicken tenders or boneless, skinless chicken breasts, cut into ¼ by 3 inch strips
Kosher salt and freshly ground black pepper
1/4 cup extra-virgin olive oil
1 15 ounce link cooked turkey chorizo (or any sausage you like)
1 red bell pepper, diced (about 1 ¼ cups)
2 teaspoons finely chopped fresh jalapeno pepper
1 cup drained and chopped canned tomatoes
3 garlic cloves, minces
1 teaspoon Spanish smoked paprika
1/2 teaspoon ground cumin
1 cup medium-grain rice, preferable Spanish (or substitute Arborio)
Directions:
Heat the stock in a medium saucepan over medium-low heat, reduce the heat to low, and keep at a simmer.
Place the saffron in a small bowl and steep in 1/2 cup of the warm stock.
Season the chicken with salt and pepper.
Heat the oil in a large skillet over high heat, add sausage and chicken to the pan, cook until golden brown on all sides, 4 to 5 minutes.
Transfer chicken and sausage to a plate.
Add bell pepper, jalapeño, tomatoes, and garlic to the pan and reduce the heat to medium-high. Cook until the peppers begin to caramelize, 3 to 5 minutes.
Stir in the paprika and the cumin.
Pour the rice into the pan and stir just until coated.
Pour in 2 cups of the warm stock and add the saffron and the steeping liquid.
Return the chicken and sausage to the pan along with any juices on the plate, stir to combine, and simmer over medium-low heat, uncovered, until most of the stock has been absorbed, about 20 minutes.
Up next: Tomatillo lamb stew and more >>