Iron Chef
Dinner Recipes
As a working mother of four boys, dinnertime can sometimes feel like an impossible task. In our house, I enlist help. Getting kids excited about food is a great way to teach them healthy eating habits from an early age, and the bonus is extra help in the kitchen!
(page 2 of 4)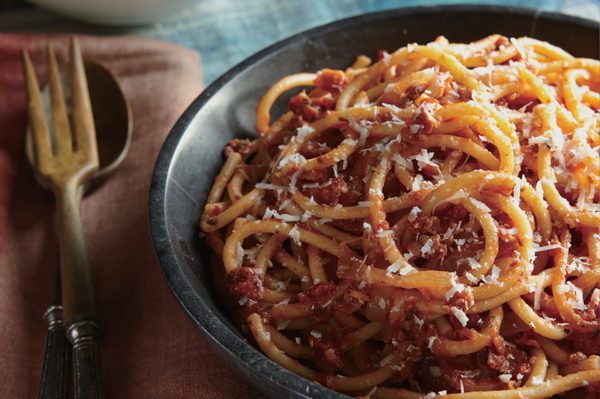 Bucatini all'amatriciana with bacon recipe
Serves 6 
This is a hearty recipe that packs plenty of flavor and vegetables. Tomatoes, onions and garlic combine with bacon or, for a chef's touch, guanciale, which is leaner and less smoky than bacon, to make an aromatic and savory main course.
Ingredients:
1 tablespoon, plus 1 teaspoon kosher salt
1 pound smoked bacon or guanciale, diced small
1 large onion, halved and sliced
4 garlic cloves, minced
1 teaspoon crushed red pepper flakes
1 cup canned tomato sauce
1 cup crushed tomatoes
1 tablespoon fresh oregano, chopped
1/2 teaspoon freshly ground black pepper
1 pound bucatini, perciatelli, or spaghetti
1, 4-ounce chunk pecorino cheese, for grating
Directions:
Cook the bacon in a skillet and drain on a paper towel-lined plate.
Add onion, garlic and red pepper flakes. Cook until garlic is lightly browned, then add tomato sauce and crushed tomatoes, salt, and pepper. Let simmer for 20 minutes.
Meanwhile, cook the pasta until al dente. Drain the pasta, reserving 1 cup pasta water.
Return the pasta to the pot, add sauce and bacon, toss to combine. Top with pecorino cheese.
Easy "Pulled Pork" Sloppy Joes recipe
The traditional Sloppy Joe gets a makeover with ground pork. This variation preserves all the flavor of the original while cutting the time!
Ingredients:
1 tablespoon olive oil
1 1/2 pounds extra-lean ground pork
1 medium onion, chopped
1 green bell pepper, chopped
1 teaspoon garlic powder
Pinch ground cinnamon
1 tablespoon plus 1 teaspoon Worcestershire sauce
1/4 teaspoon Tabasco sauce (optional)
3/4 cup ketchup
1 tablespoon plus 1 teaspoon firmly packed light brown sugar
1/4 cup water
1 teaspoon freshly ground black pepper
Kosher salt, if needed
6 sesame seed buns, toasted
Directions:
Heat the oil in a large skillet over medium-high heat, add the pork and brown, breaking it apart with a wooden spoon. When the meat is still slightly pink, remove from the pan and set aside.
Pour off all but 1 tablespoon of the oil. Add the onion and the bell pepper and cook, stirring, until soft and lightly browned, 3 to 5 minutes.
Turn the heat to low. Return the pork to the pan and stir in the garlic powder, cinnamon, Worcestershire, Tabasco, ketchup, brown sugar, and water.
Add the black pepper and simmer for 10 minutes, stirring occasionally, until the flavors are blended and the mixture is saucy. Taste and add salt if needed. Spoon onto the toasted buns and serve.
Up next: White bean and chicken chili and more >>