Chelsea Clinton's
Wedding Menu
Chelsea Clinton's wedding menu featured a mostly vegan recipes and a gluten-free wedding cake. Do you need to be a former First Daughter to have a green themed Chelsea Clinton wedding menu? Of course not! Eco-awareness and the growing number of people following animal- and gluten-free diets are driving factors in the rise of eco-friendly weddings. Here are some ideas inspired by Chelsea Clinton's wedding menu, including a gluten-free wedding cake recipe.
(page 2 of 2)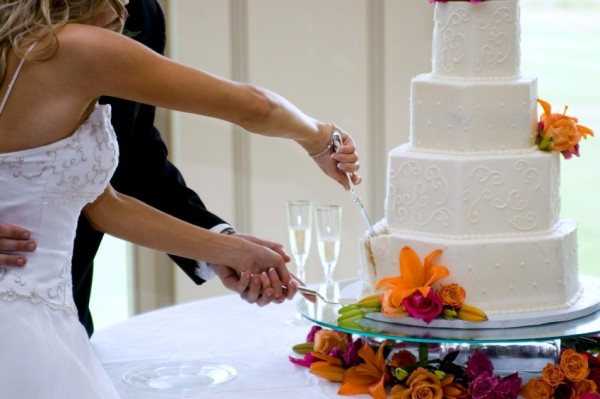 vanilla Gluten-Free wedding Cake recipe
Ingredients:
2 cups rice flour
2/3 cup potato flour
1/3 tapioca flour
1 teaspoon xanthum gum
2 teaspoons baking powder
2 cups granulated sugar
1 cup (2 sticks) butter, melted
4 eggs
2 teaspoons pure vanilla extract
1 cup milk
Directions:
Preheat oven to 350 degrees F.
In a large bowl, whisk together flours and xanthum gum. Grease a 12-cup Bundt pan and sprinkle with flour mixture, tapping excess back into large bowl. Set baking pan aside. Whisk baking powder into flour mixture.
In another large bowl, combine sugar and melted butter and beat at medium speed, scraping bowl often, until creamy. Add eggs one at a time, beating well after each addition. Beat in vanilla.
Gradually add flour mixture to butter mixture, alternating with milk, beating on low speed until well-combined.
Pour into prepared Bundt pan and bake for 50 to 60 minutes or until a cake tester inserted in the center comes out clean. Frost with your favorite buttercream frosting.
More about Chelsea Clinton's wedding