Be A Bake
Sale Diva
Back to school means back to bake sales! Fund raising will be a breeze with these delicious gourmet treats. Wrap each treat in a cellophane bag, tie with a colorful ribbon and attach with a printed label. Just be sure to make extras, these baked goods are going to sell out fast!
(page 2 of 2)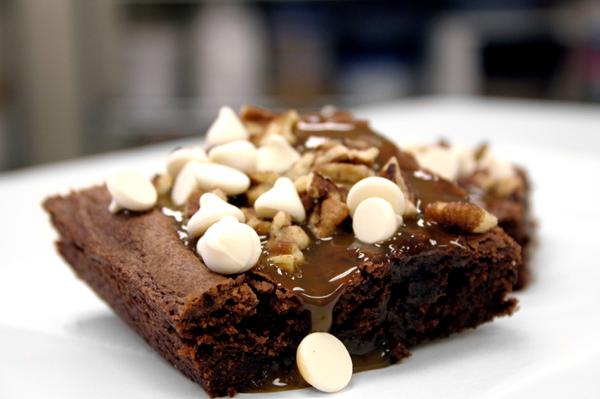 Decadent brownies
Makes 80 servings
Ingredients
1 cup sugar
1 cup flour
1/2 cup butter
1, 16-ounce can chocolate syrup
4 eggs
1/2 cup pecans, chopped
1/2 cup walnuts, chopped
1 teaspoon vanilla
1/4 teaspoon salt
Icing ingredients:
1/2 cup butter
1 1/2 cups sugar
1/3 cup evaporated milk
1/2 cup semisweet chocolate chips
Directions
Beat the sugar and butter with a mixer; add the chocolate syrup and one egg at a time, continue beating until you add all of the eggs; stir in the flour; pour into a 9 x 13-inch greased pan.
Bake at 350 degrees F for 30 minutes or, if using a jelly roll pan, bake for 20 minutes.
Icing directions
Heat the butter, sugar and milk in a saucepan; stir constantly until it starts to boil and then time mixture for 1 minute.
Turn off the heat and add the chocolate chips; beat until smooth and pour over the brownies.
Let cool before cutting into squares.
Chocolate caramel pretzels
Makes 24 servings
Ingredients
1 package of semisweet chocolate chips
1 package of caramels, wrappers removed
1 package of large pretzel sticks
2 cups of finely chopped pecans or almonds
Directions
Melt the caramels and stir until smooth; stick one end of a pretzel into the caramel and then place on waxed paper to harden; continue doing this until all of the pretzels are coated with caramel.
Next, dip the caramel ends into the melted chocolate until the caramel is covered, you will only see the chocolate.
Sprinkle the chocolate ends with chopped nuts while the chocolate is still soft.
Note: Pretzels may be decorated with sprinkles after dipping in chocolate.
More bake sale recipes