A Delicious Day
At The Beach
Packing food for the beach be difficult: You need items that are portable, easy to eat and refreshing. Plus, it must stay fresh in the hot sun. Before your next beach trip, plan ahead and prepare some tasty beach day snacks.
(page 2 of 2)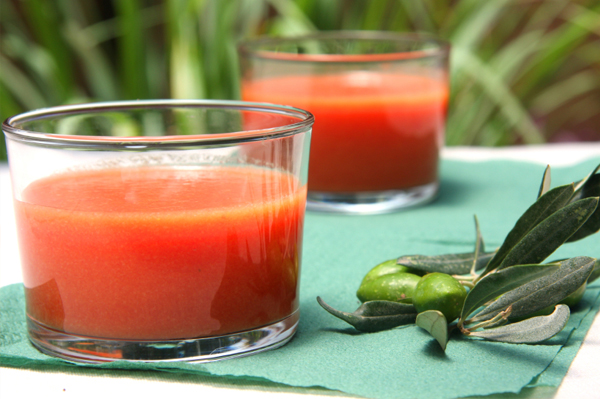 Chilled tomato soup recipe
Makes 4 servings
Ingredients:
2 ripe yellow tomatoes
2 ripe red tomatoes
1/4 cup olive oil
2 teaspoons water
1 jalapeno pepper, seeded and minced
2 garlic cloves, minced
2 tablespoons fresh basil, chopped
Directions:
Preheat oven to 300 degrees F.
Place tomatoes on an aluminum foil-covered baking sheet and bake seven to 10 minutes or until softened.
Dice tomatoes and add to a blender with oil, water, pepper, garlic and basil. Blend until puréed but still slightly chunky.
Chill in covered container until ready to serve.
Couscous & avocado salad recipe
Makes 2 servings
Ingredients:
1/3 cup couscous
1 avocado, diced
1 tomato, diced
2 tablespoons crumbled feta cheese
1 tablespoon balsamic vinegar
1/2 tablespoon olive oil
Salt to taste
Directions:
Heat 2/3 cup water to boil in a small pot; turn off heat and add couscous. Let stand for five to 10 minutes, fluffing with a fork after a few minutes.
Combine avocado, tomatoes and feta with couscous. Whisk vinegar with oil and salt, and drizzle over couscous. Stir well and chill until ready to serve.
Black olive tapenade recipe
Makes 4 servings
Ingredients:
1-1/2 cups pitted Kalamata olives
3 tablespoons capers, drained
2 anchovy filets
2 garlic cloves, minced
1 tablespoons minced parsley
Juice of 1/2 lemon
1/4 cup olive oil
Directions:
Combine olives, capers, anchovies, garlic, parsley and lemon juice in a food processor or blender.
Pulse until ingredients are chopped. Drizzle in olive oil gradually while blender is on until all ingredients are well combined.
Chill until ready to serve.
More summer recipes