Feeding Under 3s
The Food They Need
Toddlers need a varied, balanced diet to thrive. But healthy eating in this age group (one to three years old) isn't just important for growth and development, toddlers learn eating habits at this stage, too. What you offer them now could shape their attitude about food and food choices in later life.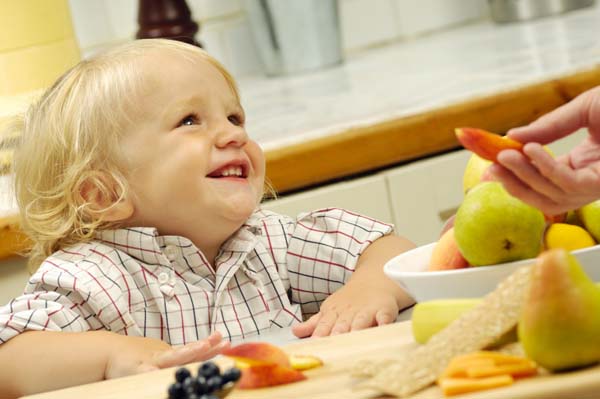 The Infant & Toddler Forum, a team of UK specialist pediatricians, psychologists and dieticians who work together to improve nutrition in the under-three age group, have put together Ten Steps, an easy-to-use guide on what food to offer toddlers and how best to manage mealtimes.
The Ten Steps cover all aspects of toddler health to help them develop good habits. Step one, for example, suggests families eat together, and to strive for happy, relaxed mealtimes. Another, step four, encourages a routine with three meals and two snacks a day.
Even better, the Ten Steps can be given out to childminders like nursery staff or grandparents, so that everyone is offering your toddler the same care.
Click here to read all of the Ten Steps for Healthy Toddlers, along with other information and handy tools on feeding them.
Then try out one of the Ten Steps for Healthy Toddlers with this simple, nutritious, kid-friendly smoothie recipe:
farmer's market berry smoothie recipe
Smoothie recipes are as plentiful as ice cream flavors. They are so easy to make, and a great way to get kids to eat food they otherwise wouldn't. This smoothie is flavored entirely by fruit. No high-sugar content sherbet or ice cream added and it whips up sweet and creamy, thanks to the addition of oodles of bananas and a hearty dose of blueberries.
To really drive your kids wild with excitement, I've found a dollop of whipping cream and a light touch of sprinkles makes even the pickiest eaters go ga-ga for the good stuff.
Ingredients:
2 cups fresh or frozen blueberries, strawberries, or raspberries
3 ripe bananas
2-3 cups vanilla almond milk
1 teaspoon vanilla
1 cup ice
1/2 can frozen orange juice concentrate
Directions:
Place all ingredients in a blender and blend until smooth
Enjoy!
More about healthy eating for kids