Simply Delicious Sides
Looking for the perfect side dish for your next holiday meal? These recipes prove that simple can be truly delicious. No, they aren't hard to make -- but your guests really don't need to know that.
(page 2 of 2)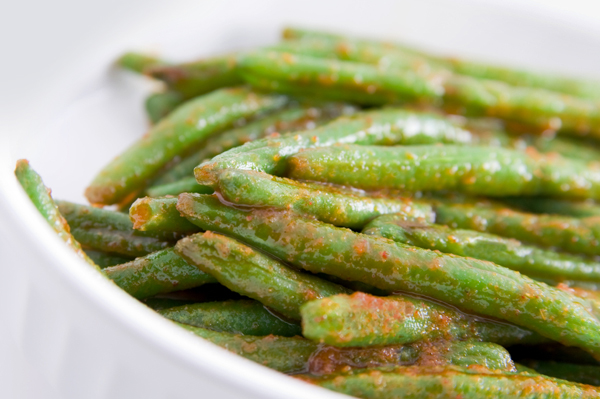 Green Beans with Brown Butter
Love green beans? This slightly dressed up version will be a favorite with guests.
Serves 4
Ingredients:
2 cups fresh green beans
2 tablespoons unsalted butter, melted
Sea salt
Directions:
Steam the green beans until just about tender. Remove from heat and drain. Transfer to a serving dish.
Meanwhile, melt the butter in a small saucepan. Bring to a boil and cook until the butter begins to brown. Quickly remove from the stove and pour over the beans.
Sprinkle with sea salt and serve.
Check out more green bean recipes >>
Roasted Beets with Thyme
Roasting brings out the sweetness in the beets and infuses them with the thyme. The result is a delicious, easy, rave-worthy side dish.
Serves 4
Ingredients:
1 pound beets, peeled and cut into 1-inch dice
1 tablespoon olive oil
3 to 4 sprigs thyme
Sea salt and pepper
Directions:
Preheat oven to 425F. On a rimmed baking sheet, place a sheet of aluminium foil that stretches the length of the baking sheet. Pile the beets in the center. Tuck the sprigs of thyme in the stack in different sections. Drizzle with olive oil, salt and pepper.
To make a sealed packet, turn the baking sheet so that you are belly up to the long side. Grab each end of the aluminum foil and pull together. Roll the two sheets together, creating a long seal. Roll up each remaining side of the foil.
Place inside the preheated oven. Cook for 1 hour. Let stand for 10 minutes or so. Be careful opening the packet -- a lot of hot steam will be trapped inside.
Serve warm.
Try tasty Braised Beets With Shallots >>
Warm Brussels Sprouts Salad with Gorgonzola & Sunflower Seeds
This tasty salad will delight your guests.
Serves 4
Ingredients:
4 cups halved Brussels sprouts
Salt and pepper
2 tablespoon sunflower seeds
2 tablespoon Gorgonzola crumbles
2 tablespoon balsamic vinaigrette
Directions:
Preheat oven to 425F. Spray an oven-safe pan with cooking oil spray. Spread the Brussels sprouts in the pan in a single layer. Lightly spray the sprouts with cooking oil. Sprinkle with salt and pepper. Cook in the preheated oven for 15 minutes, flipping once.
Toss the roasted Brussels sprouts with sunflower seeds, Gorgonzola and balsamic vinaigrette. Serve immediately.
Check out Brussels Sprouts Braised With Bacon >>
More side dish ideas: