Pantry- Friendly Dinner
Not sure what's for dinner? That's never a good feeling. But don't worry -- you needn't make a run to the grocery store for supplies.That's right: You can make these meals from some basic items that you probably have in the pantry already. Easy peasy.
(page 7 of 7)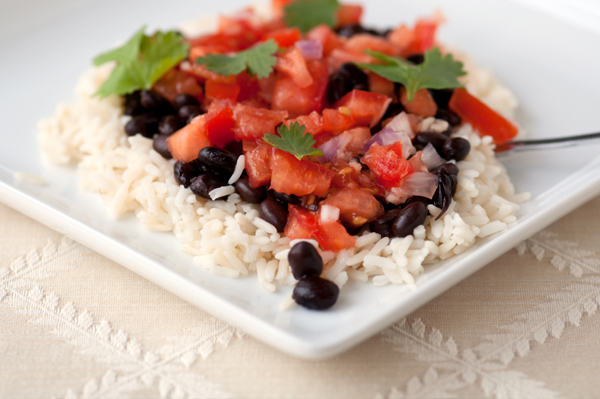 Black beans and tomatoes on rice
This fabulous vegetarian dish cooks quickly and is mighty tasty.
Serves 4
Ingredients:
2 tablespoons olive oil
1 small red onion
2 cloves garlic, minced
1 can tomatoes with diced chilis (with the liquid)
1 can black beans, drained and rinsed
1 tablespoon lime juice
Salt and pepper to taste
2 cups cooked rice (or more)
Directions:
1. Heat the oil in a large skillet over medium heat. Meanwhile, finely dice the red onion. When oil is hot, stir in the onion and cook, stirring frequently, until it begins to get translucent. Add minced garlic and cook for an additional minute.
2. Stir in the tomatoes with the juices. Bring to a boil and stir in the black beans, lime juice and salt and pepper. 3. Cook, uncovered, for five to 10 minutes until the mixture thickens.
4. Serve immediately over rice.
More quick dinner recipes: