Pantry- Friendly Dinner
Not sure what's for dinner? That's never a good feeling. But don't worry -- you needn't make a run to the grocery store for supplies.That's right: You can make these meals from some basic items that you probably have in the pantry already. Easy peasy.
(page 4 of 7)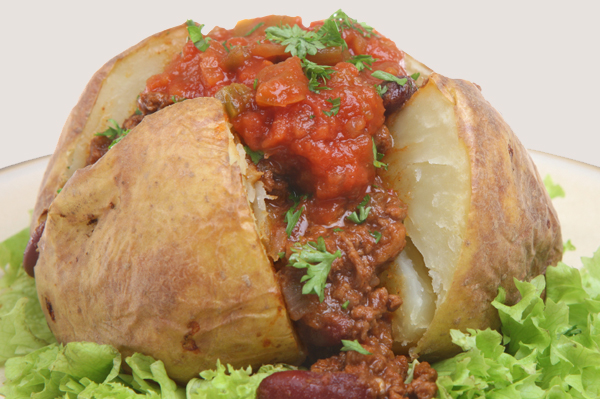 Tex-Mex baked potatoes
A baked potato is a fabulous base for a delicious and simple meal.
Serves 4
Ingredients:
4 large red potatoes
1 can black beans, rinsed
1 cup salsa, divided
1/2 cup cheddar cheese
Directions:
1. Preheat the oven to 425F. Wash the potatoes well, then prick all over with a fork.
2. Put the potatoes into the preheated oven and cook for 60 minutes, or until cooked through. Remove from oven and let cool slightly.
3. Use a knife to cut an x into the top of the potato and mash the inside with the tines of a fork.
4. Divide the black beans, salsa and cheese between the potatoes. Serve immediately.
Up next: Easy Bolognaise >>