Pantry- Friendly Dinner
Not sure what's for dinner? That's never a good feeling. But don't worry -- you needn't make a run to the grocery store for supplies.That's right: You can make these meals from some basic items that you probably have in the pantry already. Easy peasy.
(page 3 of 7)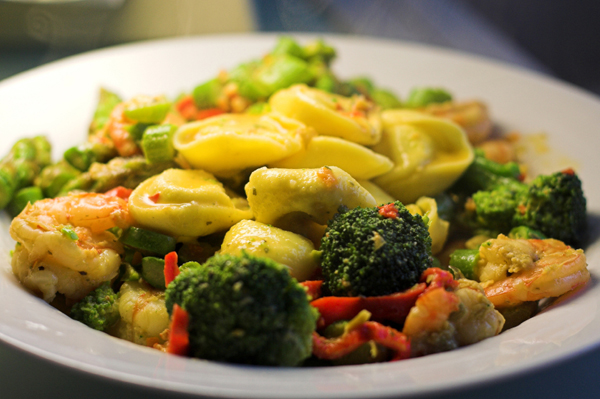 Roasted Vegetables and Lemon Tortellini
This simple pasta is high on taste, and roasting does wonders for the veggies. If desired, use thawed frozen broccoli.
Serves 4
Ingredients:
2 cups grape tomatoes
2 cups broccoli florets
1 tablespoon extra-virgin olive oil
Salt and pepper
1/2 cup Romano cheese
1 pound cheese tortellini
2 tablespoons lemon juice
Directions:
1. Preheat oven to 400F.
2. Line a large jelly roll pan with nonstick aluminum foil. Spread the tomatoes and broccoli on the baking sheet. 3. Drizzle lightly with olive oil and sprinkle generously with salt and pepper. Place in the preheated oven and cook for 12 minutes.
4. Remove the tray from the oven and sprinkle the vegetables with the Romano cheese. Place it back in the oven and cook for an additional five to six minutes until lightly browned.
5. Meanwhile, cook the tortellini according to package directions. Drain well.
6. Toss together the tortellini, roasted vegetables and lemon juice. Season with salt and pepper, and serve.
Up next: Tex-Mex Baked Potatoes >>