Don Draper
Is Back!
Season 4 of "Mad Men" premieres on July 25. So break out cocktails and food that will get everyone in the mood for a boozy, broody tryst with Don Draper on his office couch. These "Mad Men" inspired recipes ought to do the trick!
(page 9 of 13)
Don Draper/Dick Whitman - Cheater Cheesecake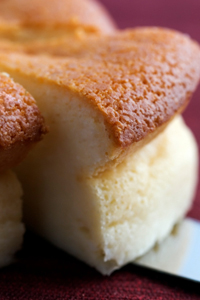 Ingredients:
3 (8 ounce) packages of cream cheese, softened
2 packages of crescent rolls
1-1/2 cups sugar
1 teaspoon vanilla
1 stick butter, melted
Topping:
1/2 cup sugar
2 teaspoons cinnamon
Instructions:
Preheat oven to 350°F. Grease a 13" x 9" pan.
Unroll 1 package of crescent rolls onto the bottom of pan.
Mix cream cheese, sugar and vanilla and spread over rolls.
Spread second package of rolls over mixture.
Pour melted butter over rolls and sprinkle with sugar and cinnamon.
Bake for 30 minutes.
Up next: Betty's Ranch Deviled Eggs >>