Don Draper
Is Back!
Season 4 of "Mad Men" premieres on July 25. So break out cocktails and food that will get everyone in the mood for a boozy, broody tryst with Don Draper on his office couch. These "Mad Men" inspired recipes ought to do the trick!
(page 8 of 13)
"Mad Men" inspired recipes
"Mad Men" Madison Avenue Potato Salad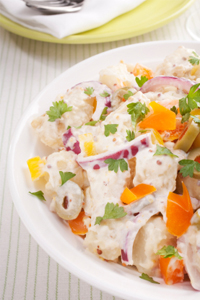 Ingredients:
3 tablespoons vegetable oil
1 tablespoon wine vinegar
1-1/2 teaspoons salt
1/8 teaspoon pepper
2 cups cooked potatoes, diced
1/2 cup ripe olives, quartered
2 hard boiled eggs, sliced
1 cup celery, thinly sliced
1/2 cup dill pickles, diced
1/4 cup pimiento, diced
1 teaspoon onion, grated
1 tablespoon mustard
1/3 cup mayonnaise
Directions:
Combine together oil, vinegar, salt and pepper. Pour mixture over potatoes.
Toss ingredients gently and refrigerate.
When ready to serve add olives, eggs, celery, pickles, pimiento, onion, mustard and mayonnaise.
Toss and serve.
Up next: Cheater Cheesecake >>