How To Make Cassolet
Cassolet is a French peasant dish that dates back to the 14th century. Originally conceived to stretch poor peasants' food budgets by cooking different cuts of meat with cheap beans slowly (we're talking days) to produce a hearty, delicious meal, cassolet has grown into a haute cuisine dish of carefully prepared white beans and expensive cuts of meat such as duck confit, goose and lamb.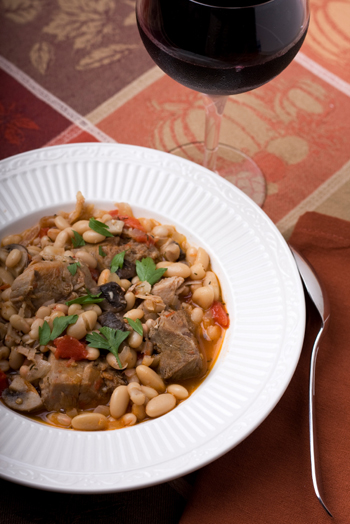 Many fancy takes on cassolet keep to the original dish's cooking length, but who has time for that? When you have to get dinner on the table in 90 seconds, you don't have days to wait for the beans and meat to cook. With this recipe, however, you can make cassolet and stay true to the original in relatively no time at all. Even better, you can honor the roots of the first cassolets by combining all the different meats you have collected (in other words, leftovers) into the dish to make a cheap, quick, inexpensive meal that feels absolutely cutting edge.
Oh, and even better, there will be bacon.
Simple gourmet cassolet recipe
Ingredients:
4 strips bacon, cut into strips
1 medium onion, diced
Salt and pepper
4 cans white beans, drained
1 cup chicken broth
1/2 tablespoon fresh rosemary, chopped
Assorted meats: cooked sausages, slices of ham, cooked chicken breasts, etc. cut into bite-size portions
Directions:
1. In a soup pot over medium heat, add the bacon. Slowly cook it so that it gives up as much of its fat as possible.
2. Once you have about 2 tablespoons fat (give or take), crank the heat up to medium-high and cook the bacon until it's crispy. Next, add the onions and a pinch of salt and pepper. Cook the onions until they turn brown and sweet, about eight minutes.
3. Add the beans and broth; bring to a boil. Once the broth is boiling, lower the heat to medium. Let it simmer away until the broth has started to thicken.
4. Once the broth is basically as thick as you would like, add the rosemary and meat. Give the cassolet a stir and let it continue to simmer until the meat is warm all the way through. Serve with fresh bread.
More French recipes: