Don't Sweat
Dinner Tonight
In the middle of the summer heat, no one wants to cook, let alone turn the oven or stove on. So here are some quick and simple no cook meals that will satisfy your hunger and keep you cool.
(page 2 of 2)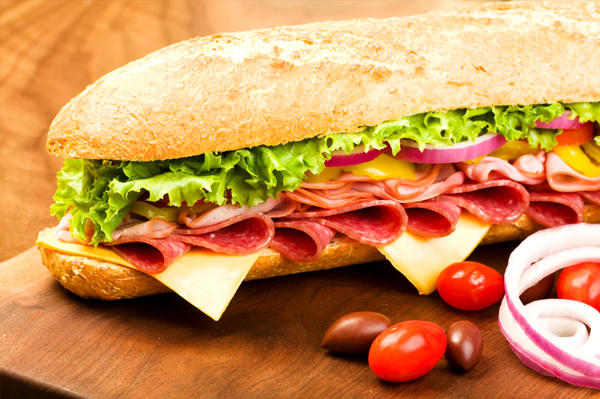 No-cook Recipes
Hoagie Italiano
Makes 1 sandwich
Ingredients:
1 tablespoon mayonnaise
1 Italian roll, halved
2 ounces provolone cheese
2 ounces Italian salami
2 ounces thinly sliced prosciutto
2 ounces capicola
1/2 plum tomato, sliced
1/4 cup roasted red peppers, sliced
1/4 cup shredded lettuce
2 tablespoons black olives, sliced
1 tablespoon olive oil
1 teaspoon dried oregano
Directions:
Spread mayonnaise on both sides of Italian roll. Top roll with provolone, salami, prosciutto, and capicola. Then place tomato slices and roasted red peppers on top and sprinkle with shredded lettuce and olives.
To finish, drizzle with olive oil and oregano.
Chilled Avocado Soup
Makes 4 to 6 servings
Ingredients:
4 avocados, peeled, pitted and cubed
4 cups low sodium chicken broth
2 cups heavy cream
Salt to taste
Red pepper flakes to taste
1/2 teaspoons ground allspice
2 tomatoes, peeled, seeded, and diced
1 onion, peeled and diced
Directions:
Puree avocadoes in a blender or food processor until smooth.
Whisk avocado puree with chicken broth and heavy cream until well combined. Season with salt, red pepper flakes, and allspice.
Top with tomatoes and onions when ready to serve.
Cheese and Charcuterie Board
Makes 6 to 8 servings
Ingredients:
8 ounces various sliced cured meats (prosciutto, salami, sopressata, bologna, etc.)
8 ounces various cheeses (Brie, cheddar, goat cheese, Parmesan, etc.)
6 ounces marinated Greek olives
6 ounces roasted red peppers
1/2 cup hummus
1/2 cup red pepper jelly
1 loaf crispy French bread, sliced
Directions:
Arrange meats and cheeses on a large cutting board. You can leave the cheeses whole if desired and have guests slice them.
Place olives and red peppers in separate bowls and place on cutting board.
Spoon hummus and red pepper jelly into separate bowls and serve on cutting board as well. Arrange bread slices on cutting board if there is room.
Related video
Daily Dish: Quick & easy dinner ideas
More no-cook recipes for summer