Arabian Nights
Right At Home
Morocco is a land of beauty, history, and wonder but you may not immediately think of it as a country with great food. However, because of all the influences from surrounding areas, Morocco has a cuisine rich in history and culture. Here are some great Moroccan recipes to help you start to explore the exotic flavors of the region.
(page 2 of 2)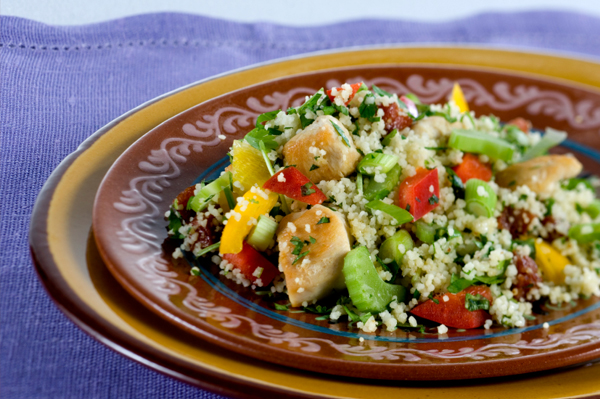 Recipes
Moroccan Vegetable Couscous
Makes 6 to 8 servings
Ingredients:
3/4 cup chopped shallots
4 tablespoons unsalted butter
3 cups canned chicken broth
2 carrots, peeled and julienned
1 sweet potato, julienned
2 eggplants, peeled and julienned
1 zucchini, julienned
1 red bell pepper, julienned
1, 15-ounce can garbanzo beans, drained
1/4 teaspoon ground cinnamon
1/2 teaspoon ground turmeric
1 pinch saffron
1/2 teaspoon kosher salt
1/2 teaspoon black pepper
1 1/2 cups couscous
1/2 cup pine nuts, toasted
1/4 cup raisins
Directions:
Saute shallots in melted butter until translucent; add chicken broth, carrots and sweet potato and let simmer over medium heat for 15 to 20 minutes
Reduce heat to low and add eggplant, zucchini, and red pepper and simmer for another 15 to 20 minutes
Add garbanzo beans then season with cinnamon, turmeric, saffron, salt, and pepper. Let this mixture cook for a few minutes or until heated through and all vegetable are softened
Meanwhile, bring 2 cups of water to a boil and add couscous; cover with lid and remove from heat. Let couscous stand for 5 to 10 minutes or until all water is absorbed. If water does not absorb then drain it out before adding it to the vegetables
Just before serving, stir the pine nuts and raisins into the vegetables mixture and serve over couscous
Moroccan Lamb Kebabs with Yogurt Sauce
Makes 4 to 5 servings
Ingredients:
1/4 cup olive oil
1 tablespoon lemon juice
2 cloves garlic, minced
1 1/2 teaspoons salt
1 teaspoon curry powder
3/4 teaspoon paprika
3/4 teaspoon ground cumin
1/2 teaspoon ground coriander
1/4 teaspoon black pepper
1 1/2 pounds boned leg of lamb, fat trimmed, cubed
1 cup plain Greek yogurt
1 cup cucumber, peeled, seeded and grated
1/4 cup mint, minced
3 tablespoons lemon juice
Salt and freshly ground pepper
Directions:
Whisk olive oil with lemon juice, garlic, salt, curry powder, paprika, cumin, coriander, and pepper; add lamb cubes and toss well to coat. Let lamb marinate in refrigerator for at least 1 hour or overnight
When ready to cook preheat grill to medium heat then thread lamb pieces on skewers. Place skewers on grill and cook 5 to 7 minutes or until cooked as desired, flipping to cook all sides
Meanwhile, mix yogurt with cucumber, mint, lemon juice, and salt and pepper. Serve yogurt as a dipping sauce
Moroccan Mint Tea
Makes 4 servings
Ingredients:
4 cups water
12 mint leaves
3 teaspoons loose green tea
1 tablespoon granulated sugar or to taste
Directions:
Bring 4 cups of water to a boil in a tea pot; add mint, green tea, and sugar and let steep for 3 to 5 minutes.
Strain before serving.
Even More Middle Eastern Recipes & Ideas