Simple Summer Dishes
Serve up an easy-to-make meal at your next summer gathering -- just pick one (or more) of these appetizers, entrées and desserts! Since there's little to no cooking required, you won't have to heat up the kitchen or miss out on the fun.
(page 3 of 4)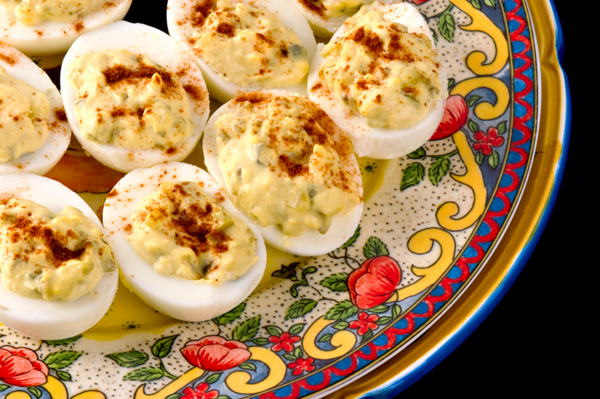 Easy entrÉes
The all-important entrée needn't take any more effort than its easy-to-make companions.
Manchego eggs diablo
Food maven Ronnie Campbell's feisty entrée is sure to please guests of all ages.
Ingredients:
6 hard-cooked eggs, cooled and shelled
3 tablespoons of grated aged Manchego cheese
1 to 2 tablespoons of mayonnaise
2 tablespoons fresh chives, snipped into small pieces
1 fresh red chile, seeded and finely chopped
salt and pepper
lettuce leaves for serving
Instructions:
Cut the eggs in half lengthwise. With a teaspoon, carefully scoop out the yolks into a fine strainer, reserving the egg-white halves.
Rub the yolks through the strainer and into a bowl. Add the grated cheese, mayonnaise, chives, chile, and salt and pepper to taste.
Spoon the filling into egg halves. Arrange on bed of lettuce on a small platter.
Cover and chill until ready to serve.
Three-layer turkey reuben
The Food Network's Claire Robinson puts a fancy twist on the turkey sandwich.
Ingredients (per sandwich):
1 multi-grain thin sandwich roll (try Arnold/Oroweat Sandwich Thins®)
1 tablespoon thousand island dressing
1 slice Swiss cheese
3 ounces smoked turkey, thinly sliced
2 tablespoons sauerkraut, rinsed and drained
kosher salt, to taste
freshly ground black pepper, to taste
Instructions:
Preheat oven to 350 degrees F.
Spread a half-tablespoon of thousand island dressing on each half of the roll.
Top the bottom half with cheese, turkey and sauerkraut.
Finish with a pinch of salt and pepper, and add the top half of the roll, thousand island-side down.
Bake for 5 to 7 minutes, or until the sandwich is warmed through and slightly toasted, and serve.
Next up: Delectable desserts