Simple Summer Dishes
Serve up an easy-to-make meal at your next summer gathering -- just pick one (or more) of these appetizers, entrées and desserts! Since there's little to no cooking required, you won't have to heat up the kitchen or miss out on the fun.
(page 2 of 4)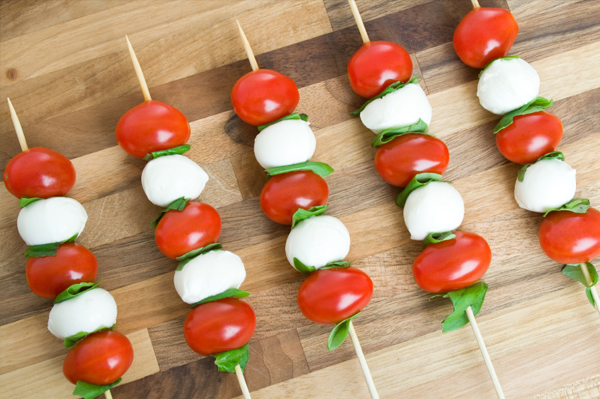 Simple side dishes
These yummy sides can stand alone without an entrée!
Mozz kabobs
Caroline Haskett, owner of The Olive Orchard, makes it easy to serve a sophisticated and healthful side dish.
Ingredients:
grape tomatoes
small fresh-mozzarella balls
fresh basil
wooden skewers
extra-virgin olive oil and seasonings of choice
Instructions:
Alternate tomato, basil, mozzarella, basil, tomato, etc. on each skewer.
Drizzle with premium extra-virgin olive oil and seasonings.
Mandarin cottage salad
This light and refreshing dish from Brenda J. Ponichtera, registered dietitian and award-winning author, is a lovely pastel-orange hue.
Ingredients:
2 cups low-fat cottage cheese
2 3-ounce packages sugar-free orange-flavored gelatin
1 cup fat-free whipped topping
8 ounces fat-free vanilla yogurt with artificial sweetener
1 11-ounce can mandarin oranges in juice, drained
1 8-ounce can crushed pineapple in juice, drained
Instructions:
Combine cottage cheese, gelatin, whipped topping and yogurt in a medium bowl.
Add fruit and mix well. Cover and refrigerate until serving.
Next up: Easy entrÉes