Tastes Of Summer
Summer is a beautiful time for entertaining, but in the current recession, we're all trying to save a few pennies any way we can. This doesn't mean we have to sacrifice delicious treats for our guests, though. Behold 10 of our favorite summer side recipes – all for under $10!
(page 8 of 10)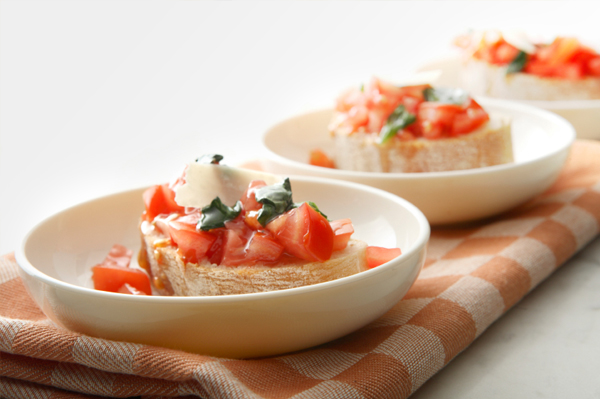 White Bean Bruschetta
Recipe developed by Melissa d'Arabian for the Grain Foods Foundation.
Ingredients:
1 baguette, thinly sliced along the bias (about 12 slices per loaf)
1⁄4 cup olive oil, divided
2 tablespoons unsalted butter, divided
1⁄2 white onion, chopped
3 cloves garlic, minced
1 teaspoon dried basil
1 teaspoon dried oregano
3⁄4 cup canned navy beans, rinsed and drained
2 tomatoes, cored and cubed
2 tablespoons balsamic vinegar
kosher salt and pepper
olive oil for drizzling
Preparation:
In a large sauté pan, heat 1 tablespoon of the olive oil and 1 tablespoon of the unsalted butter on medium heat. Place the bread slices in the pan and cook on medium-high heat until sizzling and golden. Just before flipping the bread, add an additional tablespoon of olive oil and butter to the pan. Flip and cook other side until golden.
Topping: Cook the onions and 2 tablespoons of the olive oil in a medium sauté pan over medium heat until the onions are very soft, about 7 minutes. Add the garlic, basil and oregano and cook another minute or two, until fragrant. Add the beans and continue cooking for another five minutes on low heat, seasoning with salt and pepper. Add the tomatoes and turn off the heat, allowing tomatoes just to take on the warmth of the pan without cooking. Drizzle the balsamic vinegar into the pan and gently stir.
To serve, scoop heaping spoonfuls of the tomato-bean mixture onto the grilled bread, sprinkle with kosher salt and drizzle with additional olive oil.
Up next: basilico couscous salad